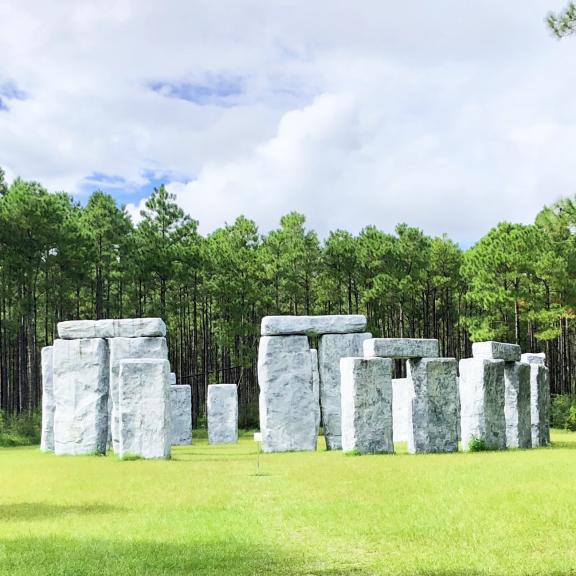 Dinosaurs, the Lady in the Lake, bushwackers and burgers by boat, and lots of other oddities are to be explored on this ride. Starting at The Hangout in Gulf Shores, heading east toward Pensacola and up and around Elberta, you'll have a lot of fun stories to bring home after the Unique & Fun Run. 

Orange Beach Welcome Center
23685 Perdido Beach Blvd.
800-982-8562
Need a suggestion on where to stop for gas or what to do after your ride? Drop in to the Orange Beach Welcome Center and our vacation specialists will be happy to assist you.
Pink Pony Pub
137 E. Gulf Place, Gulf Shores
251-948-6731
Since 1956, this beach bar has been a favorite for both locals and visitors in Gulf Shores. Stop by for a refreshing drink and/or one of their famous nacho plates and enjoy the view of the Gulf of Mexico from the balcony. 
The Hangout
101 E. Beach Blvd., Gulf Shores
251-948-3030
There are many reasons The Hangout is a must-stop for nearly all vacationing on Alabama's beaches. But, one of their menu items will get you all geared up for a day of riding. The Lifeguard, one of their signature burgers, is stacked with two half-pound burger patties, various cheeses, a fried green tomato, fried egg, thick-sliced bacon and fried pickles. Need we say more?
Barber Marina
26986 Fish Trap Rd., Elberta
251-987-2628
From the outside this may look like your average marina but spend some time riding or walking around and you'll begin to see some pretty startling sites including odd sculptures like the infamous Lady in the Lake. There is also a fantastic collection of vintage boat motors on display.
 
Bamahenge
Barber Pkwy., Elberta
Located just 200 yards off the main drive into Barber Marina is this wooded area that showcases fiberglass megaliths reminiscent of those found in Stonehenge. 

Pirate's Cove
6664 Hwy. 95, Elberta
251-987-1224
For 61 years this locally famous establishment has been serving up mouth-watering burgers, bushwackers and homemade pizza made with their signature dough. While most come by boat, you and your crew can ride on up for a snack with a view of Orange Beach's back bays.
National Naval Aviation Museum
1750 Radford Blvd., Pensacola
850-453-2389
Located in nearby Pensacola, this is the world's largest Naval Aviation museum with more than 150 restored aircrafts, 350,000 sq. ft. of exhibit space, simulation experiences, dining and more. The museum has specific guidelines for entry. Please call their control center at 850-452-4153 or visit the website for details.