Enjoy a little nature on your next beach vacation
February 6, 2013
The Gulf Coast is about more than suntans and beaches; the area also provides a special sanctuary for migratory birds, nesting sea turtles and even the endangered Alabama beach mouse. The Bon Secour (which means "safe harbor" in French) National Wildlife
Refuge might be small compared to other national wildlife refuges, but it attracts more than 100,000 visitors each year!
The refuge's 7,000 acres provide a variety of habitats where you can spot unique plant and wildlife, including more than 300 species of birds. The refuge offers free guided tours including a "Bird Walk" for both beginner and experienced bird watchers. On the "Dynamic Dunes" tour, discover more about the dune and beach habitat. The "Nature Walk" tour covers general information about the plants, history and wildlife found on the reserve. These free tours do require a reservation, so be sure to sign up.
Not into a guided tour? You can choose from several trails that range from one mile more than four miles. These trails are open seven days a week.
The Bon Secour National Wildlife Refuge is truly a special place, and it's just one more reason why Gulf Shores is such a cool town.
As a matter of fact, BudgetTravel.com recently named Gulf Shores one of their top 15 finalists in its "America's Coolest Small Towns 2013" contest. Of course we think Gulf Shores is the coolest, and if you think so too then help us bring home the title! All you have to do is vote. Voting closes on Feb. 15, so you still have time to make your vote count. You can even vote once a day. Spread the word and tell your friends!
[caption id="attachment_795" align="aligncenter" width="168" caption="From butterflies to bird watching, the Bon Secour National Wildlife Refuge is a fun way to spend a day at the beach."]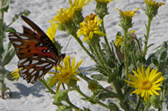 [/caption]