Reel in the Red Snapper Right Now
If you're itching to go fishing, we've got great news. You don't have to wait until June to reel in red snapper.
January 6, 2014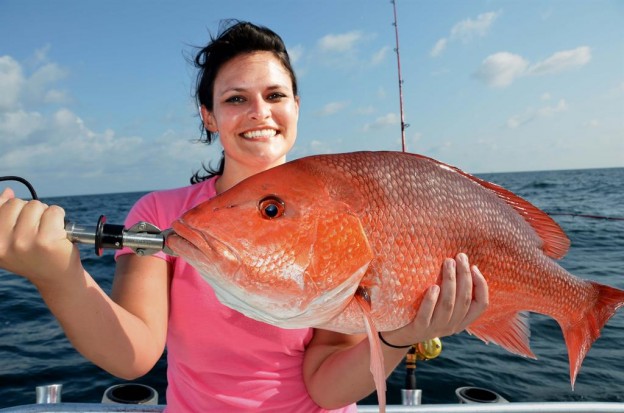 Through a Federally permitted Gulf Headboat Collaborative, anglers can now board a participating headboat and cast their lines for red snapper.
Three Orange Beach headboats are participating in the pilot program that allows the flexibility to fish for red snapper and gag grouper beginning this month. Located at SanRoc Cay in Orange Beach, anglers can charter fish aboard the Gulf Winds II or Reel Surprise. From Zeke's Landing Marina, the Zeke's Lady is available for red snapper fishing. Headboats are larger boats that accommodate 10 or more people at the same time.
Fishing limits remain in effect and are monitored through the program. Headboats can only catch the same number of fish they would normally catch during the short season in June, but captains can now take anglers fishing anytime during the calendar year. This provides flexibility for vacationers who won't be in Orange Beach during June.
From January to May 23, take an eight-hour charter fishing trip aboard Gulf Winds II, Reel Surprise or Zeke's Lady for $125 per person. Each guest can keep a maximum of two red snapper. Six-hour charters are also available for $85 per person. Guests can purchase two red snapper tags at $20 each.
There's no need to wait. Plan your Orange Beach charter fishing trip and reel in good times in 2014.