Island Boasts Family-Friendly Mardi Gras Festivities
February 7, 2014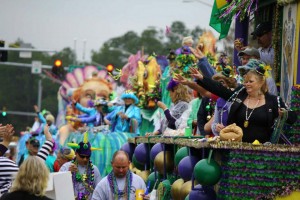 Gulf Shores and Orange Beach are cities both known for their family-friendly Mardi Gras festivities.
How do you Mardi Gras? In Gulf Shores and Orange Beach, we Mardi Gras family-style.
It's unlikely you'll see inappropriate antics when you line the streets of these beachside sister cities for some Carnival merriment. And, with five parades to attend, there are plenty of opportunities for your friends and family to let the good times roll. Parades start to roll in Orange Beach on Friday, Feb. 28 with the Mystical Order of Mirams, followed by the Mystics of Pleasure on Saturday, March 1. Stay for the weekend and take advantage of offseason rates on Gulf Shores condos and Orange Beach hotels. It's the perfect mix of celebration and relaxation. More good times are waiting to be had on Fat Tuesday, March 4. Traditionally, Fat Tuesday marks the last hurrah before the Lenten season begins on Ash Wednesday. Parades will run throughout the day and in between, visit your favorite beach restaurant for gumbo, Gulf seafood or grilled burgers. You'll need to keep your energy up for all the festivities! The Gulf Shores Mardi Gras parade will hit the streets at 10 a.m., followed by the Orange Beach parade at 1:30 p.m. A boat parade will leave The Wharf at 3 p.m. and end at Lulu's at 5 p.m. Make a long weekend out of the Mardi Gras holiday and discover a different side of the beach. It's more than white-sand beaches and clear water. There's fun to be had during all the seasons, especially when you throw moonpies and beads into the mix. Come experience a whole new state of "Hey Mister, Throw Me Something" when you Mardi Gras on the Alabama Gulf Coast.