Mardi Gras Tradition Runs Deep on Gulf Coast
February 14, 2014
[caption id="attachment_3118" align="alignright" width="300"]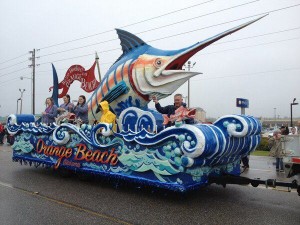 Come to Orange Beach and Gulf Shores to catch some moonpies and beads this Mardi Gras season.[/caption]If you thought Mardi Gras was only a New Orleans tradition, think again. Both
New Orleans and nearby Mobile, Alabama, lay claim to being the birthplace of Carnival, and locals in each city take pride in calling the celebration their own. No matter where Mardi Gras in the United States originated, over the years, its roots have spread all over the southeast, including Gulf Shores and Orange Beach.
Mardi Gras parades are rolling all throughout the Gulf Coast, but in Gulf Shores and Orange Beach, you'll experience a whole new state of Carnival with our family-friendly atmosphere. Don't miss another Mardi Gras season. Book your Gulf Coast vacation and enjoy the beaches in Alabama when you're not catching beads and moonpies. Wear your purple, green and gold and put these parades and events on your calendar:
Feb. 26
7 p.m., Lulu's Annual Birds of Paradise Mardi Gras Ball, Gulf Shores
The Birds of Paradise Ball is for revelers age 21 and over.
Feb. 28
6:30 p.m., Mystical Order of Mirams, Orange Beach
March 1
5:30 p.m., Mystics of Pleasure, Orange Beach
March 2
4 p.m., Pet Parade, The Wharf, Orange Beach
6 p.m., Float Parade, The Wharf, Orange Beach
March 4
10 a.m., Gulf Shores Parade, Gulf Shores
1:30 p.m., Orange Beach Parade, Orange Beach
4 p.m., Boat Parade, Orange Beach and Gulf Shores
Nearby Parades
Feb. 21
6:45 p.m., Apollo's Mystic Ladies, Daphne
Feb. 22
6:45 p.m., Knights of Ecor Rouge, Fairhope
Feb. 28
6:45 p.m., Maids of Jubilee, Fairhope
March 1
11 a.m., Foley Mardi Gras Parade, Foley
2 p.m., Krewe of Mullet Mates, Point Clear
6:45 p.m., Shadow Barons, Daphne
2:29 p.m., Loyal Order of Firetruck Parade, Daphne
March 3
6:45 p.m., Order of Mystic Magnolias, Fairhope