Wishing You Were Fishing?
July 18, 2014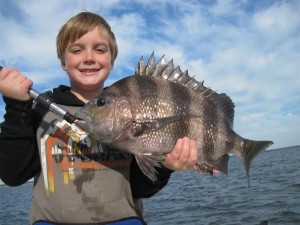 For many people, a beach vacation and fishing go together like surf and sand. No matter your skill level, fishing is one fin-tastic family activity that you should definitely put on your bucket list for fun.
You may think of Orange Beach fishing
charters when you think of a fishing trip. Charter fishing trips offer the best of both worlds – an experienced boat captain and deckhands to tell you when and how to drop your line without the hassle and expense of having your own boat and gear. Afterwards, they can clean and pack your fish for you and even recommend a restaurant that will cook your catch. There are numerous boat captains in Gulf Shores and Orange Beach that can accommodate single walk-ons or large parties alike. Trips can also be inshore, near shore, or deep sea and last a full or half day. If you do have your own boat, there are six public boat launches available to start your own adventure.
If a day on the Gulf doesn't float your boat, consider pier fishing or surf fishing. The Gulf State Park pier is the second largest on the Gulf of Mexico and boats more than 2,400 feet of fishing space along its rails. The pier also offers an indoor concession area and a retail shop offering bait, tackle and fishing licenses. With 32 miles of white, sandy beaches, shore fishing is also a great bet for a day of fun. During early mornings or evenings you'll find many casting their line in the Gulf, or even on the back bays or Little Lagoon.
No matter which fishing adventure you choose, you're sure to bring home a fish tale or two! Speaking of fish tales, do you think you have what it takes to be a fishing reporter for Gulf Shores and Orange Beach? Enter our Fin-Tastic Contest by submitting a 150-word essay and you could win a three-night stay, four passes for charter fishing from Reel Charters, a beach family portrait session, gift cards to Lulu's and Fiddlefish and a Crazy Sista cookbook.