Mardi Gras is Set to Roll on the Alabama Gulf Coast
January 16, 2015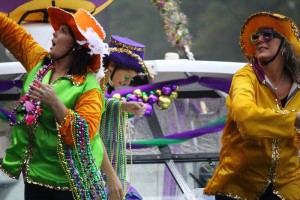 Grab your bags and get a mask, it's Mardi Gras on the Alabama Gulf Coast. Mardi Gras, the pre-Lenten season of merriment and fun, kicked off on Twelfth Night (Jan. 6) and continues until the clock chimes midnight on Feb. 17. From the time when the first
Mardi Gras parade, the Conde Cavaliers, rolls at 6:30 on Jan. 30 in Mobile until the last bead is flung on Feb. 17 in the Order of Myths Parade in Mobile, expect fun on both sides of Mobile Bay. Mobile is known as the birthplace of Mardi Gras, a tradition brought to the area by French settlers in 1703. Mardi Gras, which had been cancelled during the American Civil War, was revived in 1866 by Joe Cain who paraded through the streets of Mobile as Chief of the Chickasaw Indians, Old Slacabamorinico, in defiance of occupying Union troops. The Carnival traditions continue to be a strong part of this area's history and in 2005 the Mobile Carnival Museum opened in downtown Mobile.
Parades, Mardi Gras balls and parties are just some of the revelry you can experience while on the Alabama Gulf Coast. While many of the Mardi Gras balls are invitation-only, some like LuLu's Annual Birds of Paradise Mardi Gras Ball from 7 to 10 p.m. on Feb. 11, are accessible with a ticket purchase.
Mardi Gras fun in Baldwin County begins Feb. 6 when Apollo's Mystic Ladies take to the streets of nearby Daphne at 6:45 p.m. The very next night, the Knights of Ecor Rouge will parade through the streets of Fairhope beginning at 6:45. The next weekend gets revved up on Friday, Feb. 13 with the Maids of Jubilee Parade at 6:45 p.m. in Fairhope.
On Feb. 13, the fun comes a little further south with the Mystical Order of Mirams parade at 6:30 p.m. in Orange Beach. On Feb. 14 at 11 a.m., the nearby Foley Mardi Gras parade will roll through downtown. Also on Feb. 14, the Mystics of Pleasure will throw sweets, trinkets, beads and toys to parade goers in Orange Beach at 5:30 that evening. Fido can get in on the Mardi Gras action at the pet parade at The Wharf at 4 p.m., Feb. 15.
The fun gets started early on Mardi Gras Day, Feb. 17 in Gulf Shores and Orange Beach. Find your best parade spot along Alabama Highway 59 for the 10 a.m. Gulf Shores parade. Floats from various Mardi Gras and civic groups will be loaded to the brim with Mardi Gras trinkets, beads, MoonPies and cups. The fun continues at 2 p.m. as the Orange Beach Mardi Gras parade kicks off for a rollicking good time. You don't want to miss the Mardi Gras boat parade and LuLu's 16th anniversary, either!
Sweet Treats and Traditions of Mardi Gras
Get a King Cake for your crowd during the Mardi Gras season and find out who gets to host the next party when he or she finds the baby in the cake. King Cakes, which are actually yeast-dough based, are sold in bakeries and grocery stores during the Carnival season. You can get them filled or unfilled. MoonPies, made by the Chattanooga Bakery, come in a variety of flavors and are a highly sought-after throw, especially when you're keeping up your energy along the parade route.
Here are some things to know before you go:
• Dress warmly. Mardi Gras parades are mostly at night, but are held when the weather's a bit chillier along the Alabama Gulf Coast.
• Bring a bag to stash your loot.
• Don't wear too many beads. They can get in the way when you're trying to catch throws or bending down to pick up a throw from the street.
• Honor parade barricades. They are there for a reason – to protect parade-goers and float-riders.
• Make a sign! Float riders have thousands of people yelling at them. The signs can be something as simple as "I love Mardi Gras!" or "Throw me something!"
• Wear gloves. They keep your hands warm and can protect you against the slap of cold beads against your hands.
• Be courteous. It's fun to catch a lot of stuff, but don't injure yourself or someone else trying to get beads.
• Get to the parade route early.
• Take a chair, snacks and nonalcoholic drinks for your comfort.
• Be mindful, bathrooms are in short supply on parade routes. You might have to use a portable toilet.
• Carry hand sanitizer.
• Have fun!
Follow Gulf Shores Orange Beach's board 2013 Mardi Gras Boat Parade on Pinterest.