The Amphibians of Golf on the Alabama Gulf Coast
August 13, 2015
In the golfing community, amphibians are golfers who love land and water, and we don't mean the lakes on the golf course. Part of what makes an annual golf trip to the Alabama Gulf Coast so unique is the plethora of onshore and offshore activities. Although golf may be your first love, fishing is also a favorite pastime of golfers visiting Gulf Shores and Orange Beach.
Did you know that the Gulf Coast is home to the largest charter boat fleet in the U.S.? Combining your golf and fishing excursions into one vacation is becoming more popular. It creates a great balance to pair the pristine signature courses of the Gulf Coast with the saltwater of the Gulf of Mexico!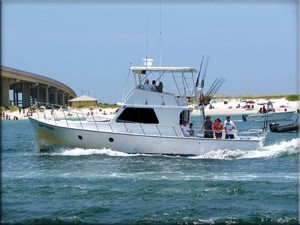 Fall is a great time for both fishing and golf. Flounder, oysters, shrimp and amberjack are among the marine life in season this time of year.  When fishing in Gulf Shores and Orange Beach, you get to choose from a vast fleet of inshore or offshore fishing charters with more than 100 captains ready to help you get the bite you've been waiting for. After you catch your prize fish, take them to select local restaurants and they will cook your catch for you. Or if you enjoy being the chef, cook them yourself using these great recipes.
After a day of fun on the water, you will be ready to get back to the game you love. The best part? You don't have to travel! Your fishing adventure is just a short drive from nine signature championship courses along the Gulf Coast. It's two vacations in one!
Golfing weather is at its best during the upcoming fall months, with a cool fall breeze making its way through the state. The courses are also visually spectacular, with the changing hues of the trees and vegetation. Don't wait for your schedule to fill up – make it a priority to book your golf and fishing getaway now!