Why You Should Plan a Day Trip to the USS Alabama
October 10, 2018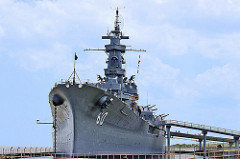 Come aboard the Battleship USS Alabama and find out why TripAdvisor reviewers ranked it the No. 1 attraction in the Mobile area. Moored on the shores of Mobile Bay, just a short drive from Gulf Shores and Orange Beach, the USS Alabama stretches 680 feet from stem to stern, a symbol of strength, perseverance and courage.
Why should you spend time here?
There's so much to explore! With a length that is half as long as the Empire State Building is tall, you'll find a new passageway you haven't been down or something you didn't see on your previous visit.
It's historical! Give your family a quick history lesson through the eyes of the USS Alabama and its participation in battles in both the Atlantic and Pacific oceans.
There's more than just the battleship! You can explore the submarine, USS Drum, during the same visit. Credited with sinking 15 ships during World War II, the USS Drum is the oldest American submarine on display in the world.
It's the only place in the world where you will see a complete collection of the "F" series of fighter jets, some of the more than 25 rare and historic aircraft on display at the park.
Commissioned in 1942, the Battleship USS Alabama saw 37 months of action during World War II in both the Atlantic and Pacific fleets, earning nine battle stars. Known as the Mighty A, the USS Alabama never suffered any casualties or significant damage due to enemy fire. She was decommissioned in 1947 in Bremerton, Washington, and brought to Mobile in 1964, opening to the public in January 1965.
As an attraction, the USS Alabama has had more than 10 million visitors since it opened 50 years ago. The battleship also plays host to many activities, including Cub Scout campouts, weddings and corporate events. A visit to the battleship is a great way to stretch your crew's legs on the way to your beach vacation in Gulf Shores and Orange Beach, or on your road trip when leaving the beach. Get your sea legs here and come aboard!