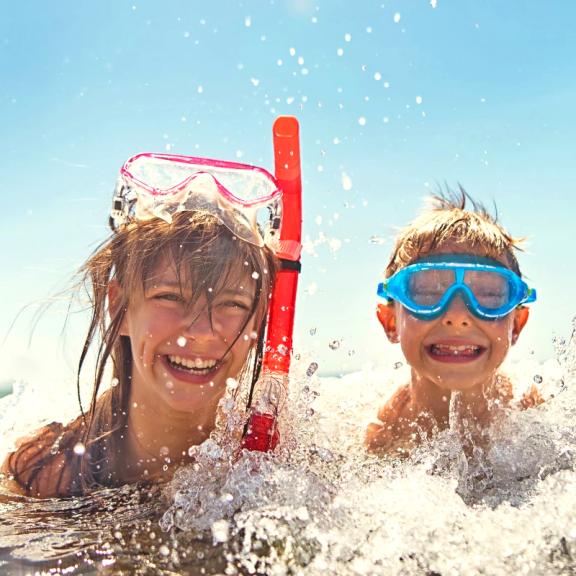 Four Cool Spots to Snorkel the Beach
You've biked the trails, built a sandcastle and eaten your fill of fresh Alabama seafood. What's next?
July 9, 2021
Add the finishing touch to your Gulf Shores and Orange Beach vacation by experiencing a whole different state of wonder when you strap on goggles and snorkel your way through the area. Think you need a boat to do any good snorkeling on Alabama's beaches? Think again! You'll enjoy several opportunities in the deep blue. Okay . . . the shallow blue.
Circalittoral Reef Spots
Circalittoral reefs (reefs near the seashore) recently got a boost thanks to the Marine Resources Division and restoration funding from the Deepwater Horizon oil spill. A habitat enhancement project now offers increased and better-quality habitat for reef-associated organisms in the circalittoral zone.
Man-made with limestone and concrete, the circalittoral areas will attract organisms like bryozoans, tunicates and encrusting algae which will settle on the substrate creating a foundation for a reef community to thrive. Over time, the artificial reefs will support a diverse ecosystem that will produce marine life in abundance.
You can find the circalittoral reefs at three Gulf State Park Beach Access Sites: Pavilion, Romar Beach and Alabama Point. The shallow reefs (only about eight feet) are about 500' from the shore with a large enough vertical clearance to accommodate boaters. From the water, look for the alignment of the poles that serve a reef markers (rear poles are yellow with red stripes and front poles are only yellow) to determine your relation to the reef. Red lights offer a nighttime point of reference except for sea turtle nesting season.
Find out more about taking the plunge and discovering our underwater world in this first-hand account of a father/daughter diving duo's adventures on Alabama's beaches.