Three Cool Spots to Snorkel the Beach
June 1, 2017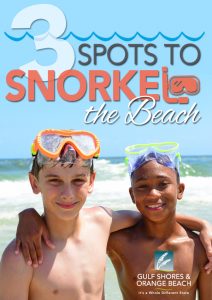 You've biked the trails, built a sandcastle and eaten your fill of fresh Alabama seafood. What's next? Add the finishing touch to your Gulf Shores and Orange Beach vacation and experience a whole different state of wonder when you strap on goggles and snorkel your way through the area. Think you need a boat to do any good snorkeling on Alabama's beaches? Think again! You'll enjoy several opportunities in the deep blue. Okay . . . the shallow blue. The Alabama Point jetties at the Perdido Pass Bridge in Orange Beach create a popular spot for snorkeling and even shore diving. You'll see plenty of crabs and marine life near the rocks. Experts suggest going during an incoming tide, an hour or more before the peak. Just a short walk from the jetties, you'll find picnic areas, restrooms and outdoor showers. Spend a day snorkeling the jetties with all the creature comforts nearby.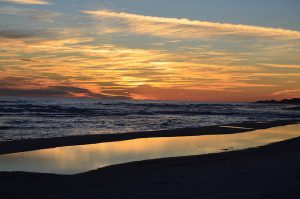 Shore divers and snorkelers alike can take a step back in time and explore the Whiskey Wreck, just 150 yards off the beach in Gulf Shores. The wreck is an old Spanish rum runner said to have sunk in 1920 that is 200 feet in length. All that is left is a three-foot high wall of hull, but it's teaming with marine life. The wreck is located directly in front of Bahama Bob's at 601 W. Beach Blvd. The Whiskey Wreck is under 15 to 25 feet of water and covers approximately 300 square yards. At Bahama Bob's, it lies just beyond the sand bar. Experts say night diving and snorkeling the wreck highlights things that typically go unnoticed during daylight hours.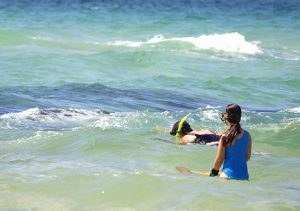 A short drive east will take you to the Perdido Key Snorkel Reef. Located at the Johnson Beach public beach access, the reef consists of 33 sections of artificial reef installed in March 2015. The reef is about 200 feet from the beach and is home to tropical fish and even sea turtles. For those new to snorkeling, always bring a friend along, and snorkel on days when waves and currents are minimal and visibility is good. It's also a good idea to use dive flags. Find out more about taking the plunge and discovering our underwater world in this first-hand account of a father/daughter diving duo's adventures on Alabama's beaches.