Mardi Gras and More Along Alabama's Gulf Coast
December 29, 2017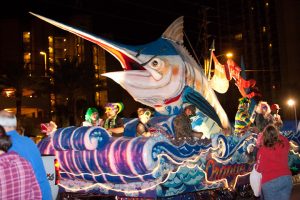 Celebrate Mardi Gras along Alabama's Coast. February is a time for festivals and other fun events in Gulf Shores and Orange Beach, including our lively and colorful parades. When planning your Mardi Gras's celebrations, explore the many accommodation options available from one-of-a-kind beach rentals to luxury hotels to one of the many unique campgrounds. You will go home with lots of memorable experiences of your time in Gulf Shores and Orange Beach.
Things to do in February:
The Annual Snowbird Production presents: Nana's Naughty Knickers - Dates vary. 7:30pm-10pm, South Baldwin Community Theatre. Tickets: $18. Bridget moved in with her lively grandmother in New York over the summer, but didn't expect all the excitement it entailed. Her sweet, seemingly-innocent, Grandma is running an illegal boutique from her apartment. She's selling hand-made naughty knickers to every senior citizen in the five-borough area. How will Bridget handle all the excitement, and will her Grandma get arrested or evicted?
 26th Annual Alabama Lifestyles EXPO - February 8, 8:00am-2:00pm. More than 70 exhibitors will provide information about quality of life programs for people over 50, food samples from restaurants, hands-on-exhibits, free giveaways, things to do and see and places to visit.Free admission and free parking.
Mystical Order of Mirams Parade - February 9, 6:30pm-7:30pm. Begins at Wintzell's and ends at Hwy. 161, Orange Beach. The Mystical Order of Mirams is a women's organization based in Orange Beach with members from all over Baldwin County, as well as Mobile, Birmingham, and even Atlanta. The group puts on the only family- friendly, women's nighttime parade on Pleasure Island.
Mystics of Pleasure Mardi Gras Parade - February 10, 6pm-7pm. Begins at Wintzell's and ends at Hwy. 161, Orange Beach. According to the written history of the Mystics of Pleasure, "while overlooking the Marina on Cotton Bayou and watching the sun set on a glorious April evening, a group of men planned what was to become ... Pleasure Islands very first nighttime Mardi Gras parading society." By Carnival of 2001, the Mystics of Pleasure held its first ball and Mardi Gras parade in Orange Beach. Unlike parading groups to the west, marshals with the Mystics of Pleasure ride Harley-Davidsons, not horses.
Mardi Gras (Fat Tuesday)- February 13, 2018
Gulf Shores Parade 10am-11am. Begins at Hwy. 59 at Clubhouse Drive and ends at Main Beach Gulf Shores. The history of the Gulf Shores Mardi Gras parade dates back to 1978 when a group of locals decided Gulf Shores should have its own parade. A year later the Mystic Order of Shiners joined the Pleasure Island Players to become what is now the oldest parading order in Baldwin County.
Orange Beach Parade 2pm-3pm. There's about 55 units in the Fat Tuesday afternoon parade, and about 30,000 people gather along the two-mile stretch of Perdido Beach Boulevard to stand in the rain of beads being thrown.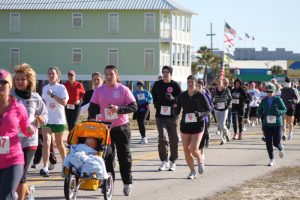 2018 Sweetheart 5K, Sea Turtle Half Marathon and Sweetheart 1 Mile Fun Run - February 17, 8am-12pm. The 2018 Sweetheart 5K and Sea Turtle Half Marathon is a challenging event for racers at all levels. Runners and walkers of all ages can enjoy the area's natural beauty along the Sweetheart 5K route. If you prefer a shorter race, checkout the Sweetheart 1 mile run. To really test your endurance, the Sea Turtle Half Marathon is the race for you.
LuLu's 10th Annual Tropical Re-union Wedding Vow Renewal Ceremony - February 17, 11am-3pm. Enjoy the festivities with a complimentary champagne toast, complimentary wedding cake, flowers for the "brides", certificates of re-union and some great music to make this day perfect.
26th Annual Orange Beach Seafood Festival & Car Show - February 24, 10am-4pm. The festival is a full day of delicious food, over 80 arts and crafts vendors, military memorabilia and music for the whole family. It also includes a silent auction, a car show featuring antique, classic and hot rod vehicles, and a Kids Zone with climbing wall, inflatables and games.
Join us in February as we laissez les bon temps rouler (let the good times roll)! Visit our website at GulfShores.com.