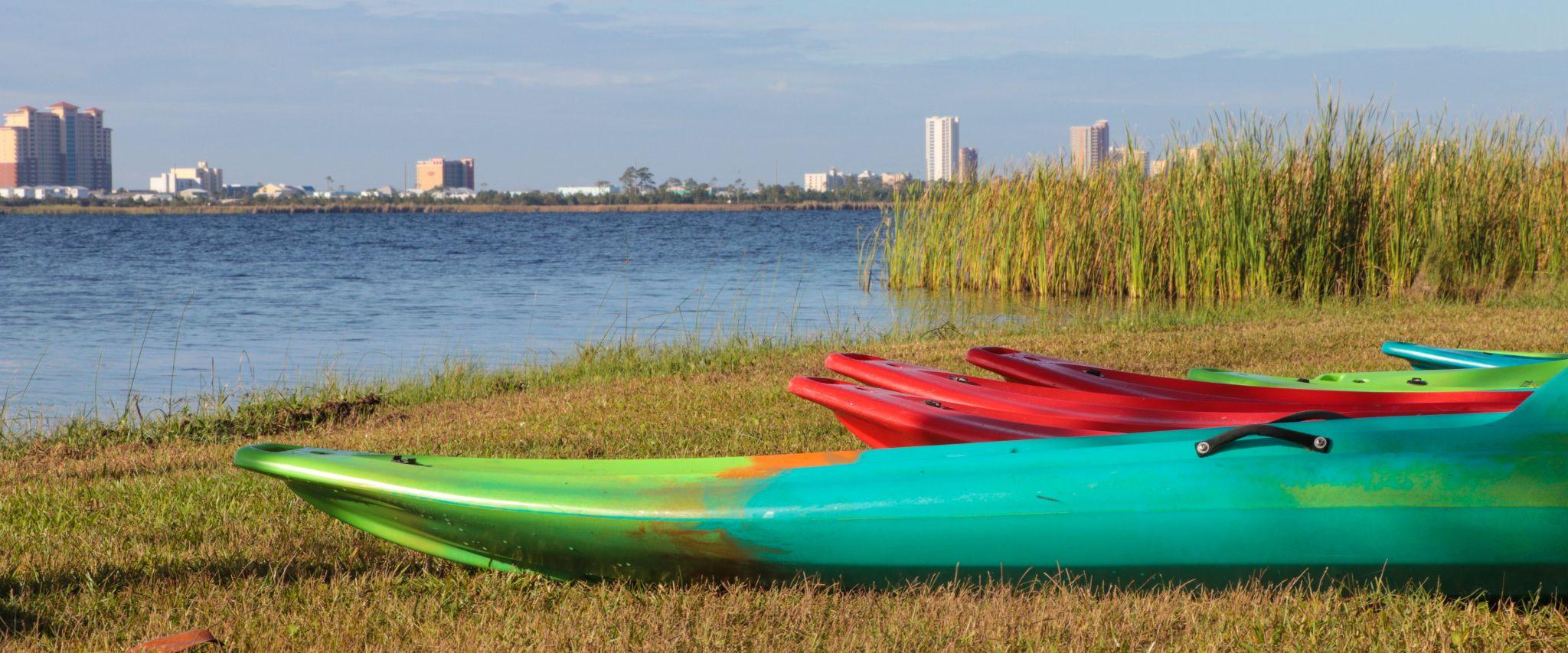 6 Adventurous Water Sports in Gulf Shores & Orange Beach
Watersports are among the most obvious ways to have fun on your beach vacation.
April 22, 2020
Gulf Shores and Orange Beach have a lot of adrenaline-pumping activities to get you out on the water! I recently visited the area with my daughter, my sister, her husband and their two boys. With two adventure-seeking tween boys, I knew we had to find some ways to keep them active and excited.
Top 6 Watersports on Alabama's Beaches
1. Parasailing
Our first excursion was parasailing with Orange Beach Parasail. We enjoyed a nice boat ride out into the Gulf of Mexico, then strapped in to float high above the water. Flying high under the parasail, the views were amazing, and you won't believe how peaceful and quiet it is! Another perk they offer is a photo package. They'll take professional photos during your experience and give them all to you on a flash drive. It was great getting all those close-up shots of the kids!  
2. Jet Skiing
The boys were asking (daily!) if they could jet ski, so that was our next adventure. We planned a full day of fun at the Flora-Bama Marina and Watersports. My sister and her family rented jet skis and the boys were thrilled! The Flora-Bama Marina offers tons of watersport rentals and excursions including fishing, boating, paddleboarding, and kayaking. Instead of jet skiing, my daughter and I went for a nice, relaxing kayak instead. 
3. Pontoon Boating
We met back up at the marina, grabbed our coolers from the car, and loaded onto a pontoon boat rental. My brother-in-law is an experienced boater, but most people with a driver's license can operate a pontoon boat with a short lesson. Our boat was equipped with a big slide off the back for extra family fun! We headed out on the bay and found a nice spot to chill and eat while the kids enjoyed the slide again and again and again. The adults even got in on the slide action once or twice!
4. Cat Boat Touring
Have you heard of cat boating? Imagine two surfboards hooked together with two lounge chairs fastened on top, then attach an engine to the back. You sit close to the water and enjoy a calm, quiet, stable ride, though you can certainly pick up a good amount of speed if you want to! Orange Beach Cat Boat Tours allows you to drive your own cat boat while being led on a tour by a guided boat. Cat boating is perfect if you want to get up close to nature, for bird- and wildlife-watching, or just cruising around on the water. I haven't had a chance to try cat boating yet, but it's on my list for my next visit.
5. Snorkeling and Diving
If you really want to get in and under the water, there are tons of opportunities for divers and snorkeling enthusiasts. The waters off Coastal Alabama are home to dozens of artificial reefs created by intentionally scuttled ships, tugs, barges and tanks. Not certified? No problem! Local shops, such as Down Under Dive Shop, offer instruction and can get you certified in no time. They specialize in exciting scuba charters, guided snorkel trips and PADI diving instruction. 
6. Kayaking and SUPing
If you are looking for a water sport that's a bit less exhilarating, Coastal Kayak Excursions has kayaks and stand-up paddleboards to rent. You can take them out on your own or take a guided excursion like we did. We kayaked around to several small islands in the bay, enjoying the calm beauty. We were able to hop out to swim, eat lunch, sunbathe on the white sand, and check out the marine life and wildlife.
So, don't settle for sitting on the beach for your whole visit to Gulf Shores and Orange Beach. The beach is beautiful for sure, but there are so many more ways to enjoy the scenery and the water!