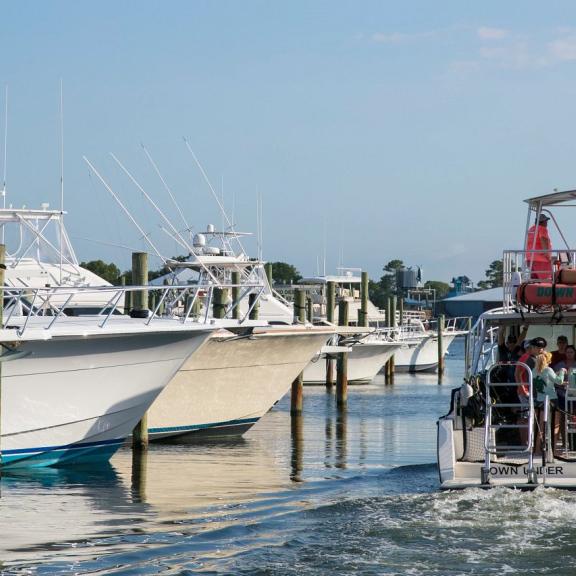 3 Great Dive Sites for Experienced Divers in Gulf Shores and Orange Beach
In part two of our three-part dive series, we're going in-depth into dive sites that will thrill and challenge experienced divers along the Alabama Gulf Coast.
July 29, 2020
Home to the largest artificial reef program in the United States, the area has plenty of unique underwater sites that offer once-in-a-lifetime dive experiences - no matter your skill level.
If you've been diving for some time, you'll encounter challenges and unique opportunities at these great dive sites for experienced divers in Gulf Shores and Orange Beach.
About 20 miles south of Orange Beach sits the New Venture, the latest 'big dive' spot on the Alabama Coast. A 250-foot long former research vessel, the ship was sunk to a depth of 120' in 2018 as an addition to the Alabama Artificial Reef Program. It boasts more decks and levels than a typical ship of its size, providing plenty of rooms and hidey-holes for divers to explore. 
Advanced divers will enjoy exploring the bottom levels of New Venture, where challenging pass-through holes have been cut to allow you to see the shy marine life that stays hidden in the dark interior of the ship.
For more information on New Venture charters, visit Down Under Dive Shop. 
For more information on the best dive sites and shops on the Gulf Coast, visit our dive page! If you need to give your pruney fingers a rest, download our 2021 vacation guide for fun surface activities to pass the time between dives.