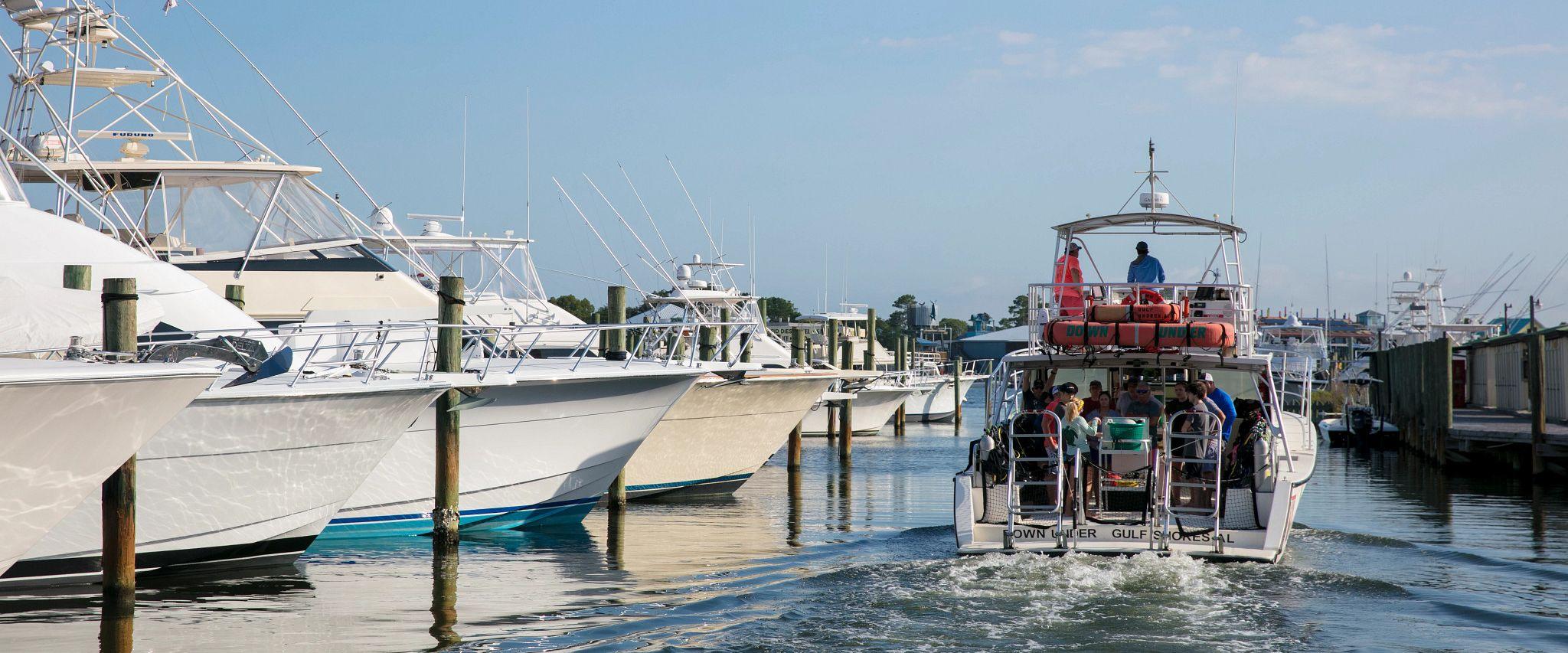 3 Great Dive Sites for Experienced Divers in Gulf Shores and Orange Beach
In part two of our three-part dive series, we're going in-depth into dive sites that will thrill and challenge experienced divers along the Alabama Gulf Coast.
July 29, 2020
Home to the largest artificial reef program in the United States, the area has plenty of unique underwater sites that offer once-in-a-lifetime dive experiences - no matter your skill level.
If you've been diving for some time, you'll encounter challenges and unique opportunities at these great dive sites for experienced divers in Gulf Shores and Orange Beach.
This popular wreck site made an appearance in part one of our dive series and is coming back for seconds. A large freighter that was sunk intact in 2013 to form an artificial dive reef, the LuLu offers three separate levels of exploration that are increasingly challenging as you approach the bottom. While novices will be limited to the top level of the ship, more experienced divers will enjoy exploring the shadowed lower levels that provide prime hiding spots for a variety of marine life. 
Down Under Dive Shop runs morning charters to the site from their comfortable Down Under dive boat.
USS Oriskany
This sunken U.S. aircraft carrier presents a unique experience that will challenge even advanced divers. The 888-foot ship was sunk in 200 feet of water in 2006, making it the largest man-made artificial reef system in the world. With more than 100 feet of depth between the bottom and top of the ship, the USS Oriskany offers plenty of space for long underwater exploration.
The ship is home to so many sedentary and active marine populations it is no wonder they call it "The Great Carrier Reef." From colorful coral full of small groups of tropical fish to breathtaking swimmers like the large Amberjack, you'll find no shortage of curious marine life to view and photograph. 
The Down Under Dive Shop offers chartered dives to the USS Oriskany. Because of the challenging depths and swift currents at the site, all divers must be Advanced OpenWater certified, supply dive computers, and have 20 logged dives.
About 20 miles south of Orange Beach sits the New Venture, the latest 'big dive' spot on the Alabama Coast. A 250-foot long former research vessel, the ship was sunk to a depth of 120' in 2018 as an addition to the Alabama Artificial Reef Program. It boasts more decks and levels than a typical ship of its size, providing plenty of rooms and hidey-holes for divers to explore. 
Advanced divers will enjoy exploring the bottom levels of New Venture, where challenging pass-through holes have been cut to allow you to see the shy marine life that stays hidden in the dark interior of the ship.
For more information on New Venture charters, visit Down Under Dive Shop. 
For more information on the best dive sites and shops on the Gulf Coast, visit our dive page! If you need to give your pruney fingers a rest, download our 2020 vacation guide for fun surface activities to pass the time between dives.