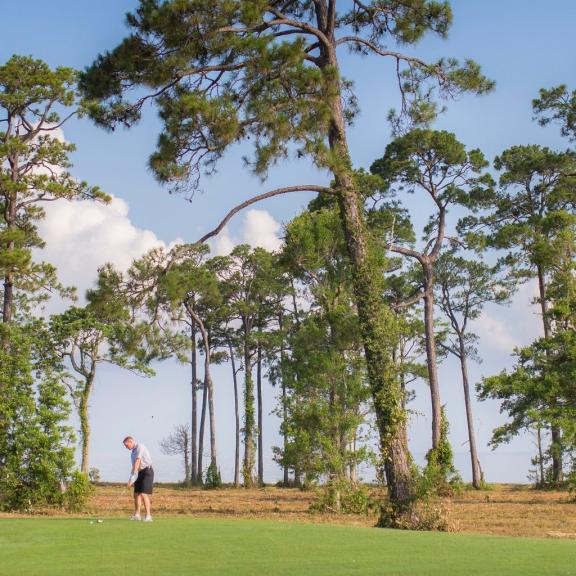 5 Tips For Your Upcoming Spring Golf Trip
Ready to get back out on the course? Use these helpful & easy tips to plan your spring golf trip in Gulf Shores & Orange Beach.
February 24, 2022
Are you ready to spring into the new golf season? Is your game in good shape after a long winter? Is Gulf Shores and Orange Beach a golfing destination on your radar this spring? 
 
The spring season is a sign of not just warmer temperatures and the dormant grass coming back to life but a time for you to clean off those golf clubs and prepare to head to the course in the hope of achieving great things throughout the upcoming golf season.
 
For those that kept their golf game in shape during the winter, the goal is that you will be able to kickstart your season and reap the benefits from the long hours you put in at the course or driving range. However, don't worry if you opted to pack your clubs away during the winter months, as there are still plenty of ways to ensure you are ready to go early in the new golf season. You should certainly follow these tips to maximize your upcoming spring golf trip.
3. Enjoy Friendly Competition
If you are heading on your spring golf getaway with a group of friends, add a little extra spice to the trip by creating a series of competitions at the various courses to ensure everyone has something to play for. Use a Stableford method of scoring so that those who may suffer a bad hole continue to have something to play for throughout the remainder of the round and especially if you create a longer tournament across multiple courses.
You can also add prizes and perks for individual rounds such as nearest the pin on a selected par 3, longest drive on a hole and even a putting contest on the practice green before or after the round. This friendly competition will allow everyone the opportunity to focus on their game while also having something to play for at the end.
4. Spend Time Off the Golf Course
Another benefit of heading to the Gulf Coast for your spring golf trip is the attractions and experiences awaiting you once you are off the golf course. While the focus of the trip may be to improve your golf game, having the opportunity to relax away from the course opens the doors to enhance the overall trip.
Taking time for new experiences such as kayaking along the Bon Secour Wildlife Refuge waterways or biking the Hugh S. Branyon Backcountry Trails will give you the time to appreciate the natural beauty along the Gulf Coast before heading to the beach to indulge in a little relaxation.