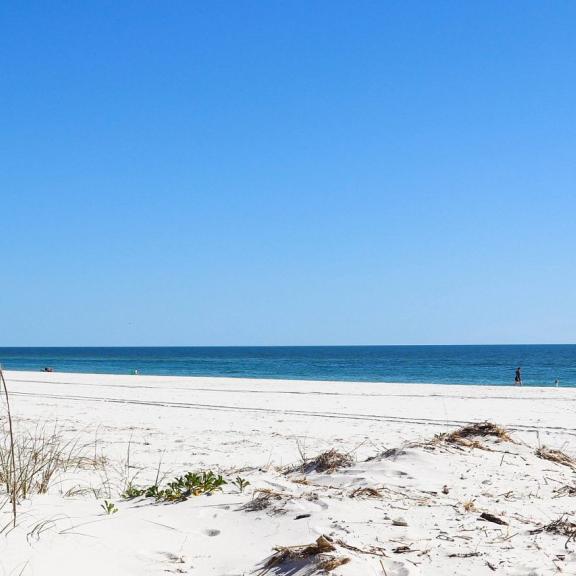 Learn the Rules & Regulations
What can I bring to the beach?
May 10, 2022
Perhaps the most recognizable features of Gulf Shores and Orange Beach are the 32 miles of white-sand beaches that stretch across the coastline.
What's Allowed on the Beaches
As you plan your visit to our pristine beaches, you may be wondering what can I bring? While vacationing in Gulf Shores and Orange Beach, please remember that the following items are not allowed on our beaches.
Glass containers
Drones
Tobacco, e-cigarettes or vapes
Holes larger than 12 inches
Fireworks, sky lanterns or sparklers
Metal shovels or excessive digging
Loud music
Litter
Fires, grills or cooking devices
Tents and structures larger than 12' x 12' in Orange Beach or 10' x or 7' x 7' x 4' in Gulf Shores, depending on the beach access location (see each city's website for further clarification and updates)
Pets
Overnight camping
Vehicles
Recreational drone operation is prohibited on Orange Beach and Gulf Shores beaches. 
In Orange Beach, commercial and special event drone filming is allowed but requires a permit. Commercial real estate drone filming requires permission from the city as well as an annual fee. You can learn more about drone usage on the City of Orange Beach website.
In Gulf Shores, drones may be flown at Gulf Place only if permitted by the FAA and approved in advance by the city. You may contact the city to request a permit.
 
While we suggest leaving the things above behind during your beach trip, here are a few items that are allowed on our beaches.
Beach chairs
Umbrellas
Small tents/shade structures
Food
Drinks in non-glass containers
Coolers
Kites
Beach wagons/caddies
Portable radios and speakers
All items left on the beach overnight or put out before dawn are discarded by patrol crews. For more beach rules and regulations, visit The City of Gulf Shores website and Leave Only Footprints.
Is the beach calling your name? Start planning your trip to Gulf Shores and Orange Beach today!