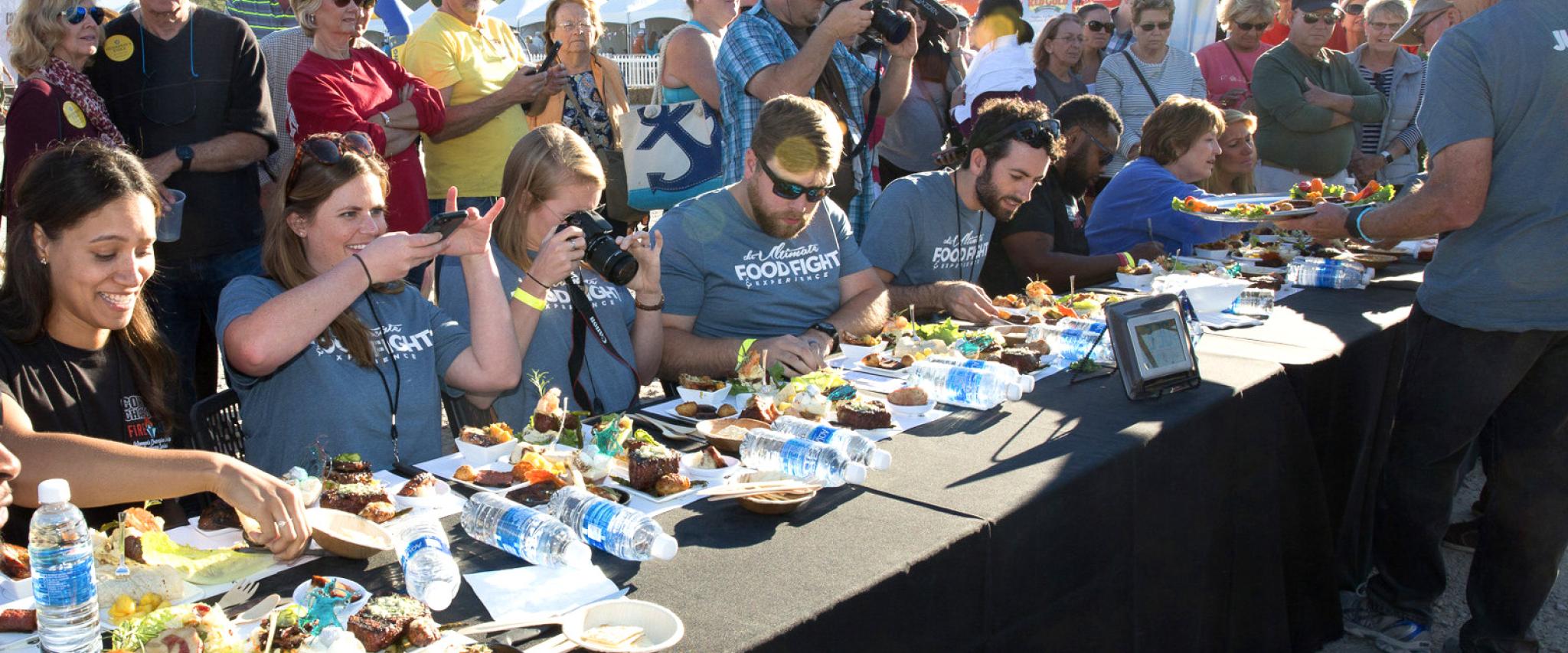 My World Food Championship Experience
As a self-proclaimed "foodie," I used to think that it would be pretty easy to be a food judge. That changed when I attended the World Food Championships in 2017.
October 1, 2018
As a participant of the 2017 World Food Championship Media Summit, I got an up-close look at what goes on behind the scenes at the World Food Championship. It's not just a cooking contest – it's a full-blown sport where thousands of professional and home cooks compete, hoping to be able to make it to the finals in Orange Beach.
In 2017, culinary champions from 43 states and 17 countries battled it out for a chance of winning the grand prize of $100,000 at the world's largest food sport.
The media summit was comprised of journalists and writers who were there to cover the fast-paced event.  We each went through the process that it takes to become E.A.T. Certified and earned our gold cards and were then eligible to judge.
There was a lot of action at the 2017 World Food Championships and "cheferees" were present to monitor for compliance.  Camera crews were there filming the event for a feature on the Food Network, too.
At the arena, the contestants had a limited amount of time to prepare two dishes, one a structured build (a specific recipe that they could put their own spin on) and the other was their signature dish.
Once the dishes were ready to be presented, they were brought to a table and given a number specific to the entrant.  They were then presented to the judges in another part of the arena who had no idea of who made what dish.  It was a "blind process."
Each dish had to be judged based on its own merit.  It could not be compared to any of the other dishes.  Points were given for three categories:  Execution, Appearance and Taste.  Before trying any dish, scores were marked for its appearance which accounted for 15 percent of the total score.  (Thirty-five percent of the score was based on the execution and taste accounted for 50 percent.) Once a score was submitted for a dish, there was no going back.  Judging is a big deal.
Since I became E.A.T. certified, I was able to be a judge of the Final 10 for the seafood category.  The contestants had to create a seafood dish using Blue Chair Bay's Key Lime Rum Cream. All of the dishes were delicious, but the one that won the Seafood category was absolutely phenomenal.
As an Alabama resident, I love that World Food Championships took place in Orange Beach and was open to the public.  I cannot imagine a better place to see the culinary creations of future Food Network stars.
This year's World Food Championship will once again take place in Orange Beach at The Wharf beginning Nov. 7 with the Chef and Sandwich Opening Rounds at the kitchen arena.
On Thursday, there will be a BBQ Ancillary and the opening rounds for Bacon, Seafood, Dessert, and Steak (group A).
On Friday, there will be more barbecuing going on, as well as the opening rounds for Chicken, Burger, Chili, and Steak (group B).  An allergy symposium with Chef Elizabeth Faulkner takes place at the Palms at the Wharf at 10:30 a.m.
Barbecuing continues Saturday and the top 10 rounds begin for the following categories: Chef, Bacon, Dessert, Sandwich, and Seafood. There will also be plenty of activities for spectators, such as the World Food Games and Walmart's Tasting Pavilion.
The World Food Championship wraps up on Sunday with the top 10 rounds for Chicken, Chili, Steak, Burger, BBQ, and a Super Qualifier Round. There will be food demonstrations taking place from 11 a.m. – 4 p.m. at the MAXimus Demo Stage.
Click here for the complete schedule for the 2018 World Food Championships.