Learning to scuba dive has been on my bucket list since I was a teenager, and in May of 2018, I got to make that wish come true thanks to Gulf Shores and Down Under Dive Shop.
July 30, 2020
For some reason, I always imagined I'd have to go to an island dive destination or take a tropical all-inclusive vacation in order to get my open water certification. I never thought about learning to scuba dive right here in my home state! I'm so glad I was introduced to scuba diving in Gulf Shores and Orange Beach and didn't put off my scuba diving dream until "someday."
Whether you've yet to be certified or you're already a seasoned diver, here's a few reasons you'll love diving Alabama's beaches.
Top 3 Reasons to Scuba Dive in Gulf Shores & Orange Beach
1. Wreck Diving
I've since completed my advanced open water certification and can't wait to dive some of the wrecks sunk off the Alabama Gulf Coast like The LuLu and the Oriskany. The closest I've gotten so far is a couple of in-shore dives with Down Under Dive Shop that gave me some good practice. Practice is something you can't have too much of when it comes to diving!
2. Beach Diving
While taking a charter out for a boat dive allows you to explore greater depths and vary your adventures, there's something nice about being able to just wade in from shore and go. I completed my training dives at the Perdido Pass Jetties in Orange Beach. There's also The Whisky Wreck that can be accessed from shore. The beach dive I'm most excited to do next though is the new reef site at Gulf State Park. Development was underway during my last trip, and I can't wait to dive in and explore. 
3. Convenience 
For a Gulf Shores and Orange Beach dive trip, I don't have to worry about the expense or hassle of an airline flight, and I don't have to factor in "no-fly time" for my return home. The convenience factor means I get more time in the water and more valuable practice.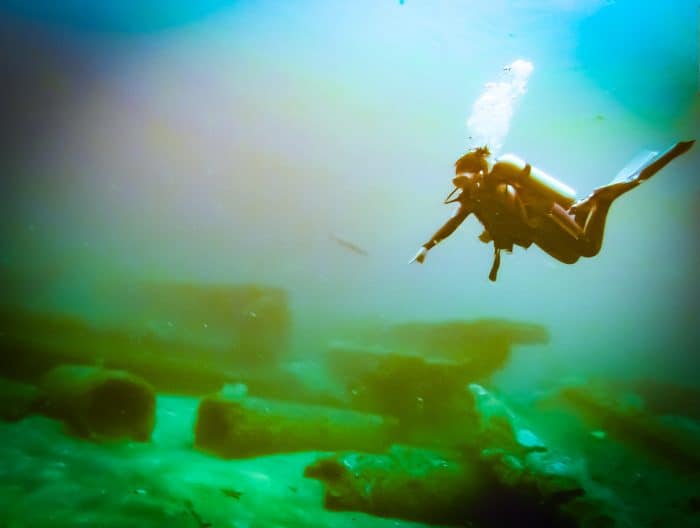 If you too are busy with life, work and family, you'll love Alabama's beaches as a diving destination. Since my husband is a landlubber, he's able to have fun with the kids on the beach and take advantage of all the things to do in Gulf Shores and Orange Beach while I'm on my dives. I get to dive and have family vacation fun! It's the best of both worlds for us.
Not sure if scuba diving is for you? Ask Down Under Dive Shop about a PADI Discover Scuba class. You'll experience what it's like to breathe underwater and get a feel for dive equipment, all in shallow water. It's a great way to get your feet wet (ha!) and see if open water certification is something you want to pursue.