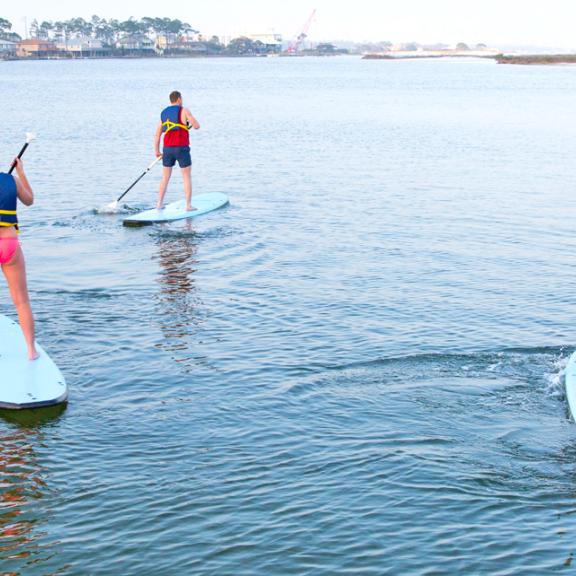 12 Must-Do Activities for Your Summer Vacation
Are you counting the days until your summer vacation in Gulf Shores and Orange Beach?
March 16, 2021
Did you take time off from work? Did you book a beach condo? Did you invite friends and family to tag along? If you did all that, you are on a roll. Now, what should you do when you get here?
Sit at the beach.
Yes, absolutely. But what else?
Is there anything else to do besides that, you ask?
Yes, a ton.
8. Gulf State Park activities – Love nature? Offering a daily schedule of events, this is a terrific family adventure to add to your summer vacation. Add the Nature Center to your itinerary and get up close and personal with some of Alabama's native wildlife. Check the calendar of events for the latest happenings.
9. Alabama Gulf Coast Zoo – In addition to its many exhibits, there are also animal encounters. Imagine how much fun it would be to hold a baby kangaroo or a play with a lemur. You can at the Alabama Gulf Coast Zoo! Afterward, stop in at the onsite restaurant, Safari Club. Safari Club is Alabama's first Green Certified restaurant.
10. Water Sports – Tired of laying out in the sun, but don't want to leave the water? Try out a water sport! Rent a paddleboard, kayak or a jet ski, among many other things. You can even try cat boating. 
11. Shopping – Tanger Outlets is about 15 minutes from the beach and boasts 120 brand-name and designer outlets. You can also visit the neighboring town of Fairhope for a quaint, artsy shopping trip. Either way, shopping can be a nice escape when you need to take a break from the summer sun.
12. Biking – Rent a bike or use the Gulf State Park's bike share program to cruise the Hugh S. Branyon Backcountry Trails. 
What other things would you add to this list? Let us know below!