What's Biting Report: Family Fishing Fun
August 15, 2019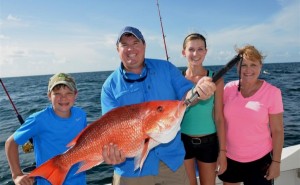 Two very different scenarios come to mind when thinking of a family fishing trip. The first one results in the memory of a lifetime and a picture of a smiling child holding a fish. The second one seems like a script just waiting to be written for a
new adventure for the Griswold family from "Family Vacation." While it could be another blockbuster, let's not give the writers any ideas.
Whether fishing with a charter or on your own boat, always remember you cannot spell "fishing excursion" without F-U-N! Keep it fun for the kids, and it will be fun for the whole family.
Some things that might be fun for more serious adult anglers may not be as enjoyable for kids. Those who like getting up before dawn and fishing all day need to realize that less is more when fishing with kids. Shorter trips usually make for better trips and will allow time during the day for other exciting activities.
Many charter boats offer six-hour family trips which last the perfect amount of time. It's an exciting boat ride for about an hour and a half, two and a half hours of fishing, and a return ride home. That ride home often results in a refreshing nap.
Captain Troy Frady of Distraction Charters in Orange Beach specializes in family fishing. He focuses on the entire experience of a fishing trip, not just reeling in the fish. "For some kids, it is all about catching fish, but most want to engage in everything from driving the boat to tying knots. Kids want to touch, feel, learn, and ask lots of questions, and we encourage them to do so."
Frady also abides by the rule that everyone should practice when it comes to fishing with children. He doesn't go when the seas are rough. "It's not a fun experience, and the last thing you want is kids getting seasick. We always think about the kids, even on a calm day. If someone is not feeling well, we always give the parents the option of coming in early."
Frady also uses light tackle to amp up the fun meter for kids. "Light tackle not only produces more bites, but it is so much easier for the kids to handle. They are not intimidated or overwhelmed by big bulky tackle." Using smaller gear allows even the youngest of kids to get in on the action.
Fishing on calm days, using lighter tackle, and providing kids with other activities on the boat leads to very rewarding trips. "Seeing a parent or grandparent get to spend quality time with a child or grandchild is what I live for," said Frady. It's also the same reason so many people take family fishing trips.
Keep Captain Troy's philosophy in mind on your next trip, and you, too will be rewarded instead of being the inspiration for the movie, "Fishing Vacation."