What's Biting Report: Girl's Day Out
August 15, 2019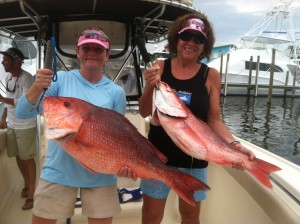 It's pretty easy to see references to women all around us while offshore fishing. I can quickly come up with feminine boats names like Island Girl, Lady D, Annie Girl, Iona Louise, Jacquelyn, My Girls, Ms Mindy, and Proud Mary. These boats have more
than just ladies names written on their transoms; they often have lady anglers on board.
There is no shortage of women who love to fish along the Gulf Coast. Whether it's part of a family fishing trip or during a tournament, our lady anglers hold more than just a rod; they hold their own against the men.
Big game fishing is a sport that is dominated from a participation standpoint by men. However last May, Sydney Turner of Baton Rouge, LA caught a 752 pound blue marlin to win the Mobile Big Game Fishing Club's Memorial Day Tournament on the boat You Never Know. Even though being outweighed by about a 7:1 ratio, Turner worked in concert with the crew to catch the winning fish. "Sydney did everything perfectly on that fish," said Captain Joe Birbeck. "She was prepared and knew exactly what to do when the big fish hit."
Seeing women atop tournament leaderboards never surprises local charter Captain Mike Rowell of the Annie Girl. His wife Tammy has for years been one of the top female anglers in the Gulf of Mexico. "Women are very good at listening and taking the advice we offer, and that usually means they end up catching bigger fish." The longtime captain also joked that most fishermen are 'know it alls' when it comes to fishing, so they like to do things their are own way. Ladies, however, get on his boat, pay attention to the captain and mates, and usually end up out catching the men because they are doing what the real experts have instructed.
Rowell also says that women put the emphasis on enjoying the whole fishing experience. He fondly remembers trips in which two dental office staffs fished with him while competing against each other. "The dentists just sat back and watched all theses ladies, who had special t-shirts made up for the day, catch fish after fish. Both dentists decided it was more fun watching their teams catch fish than fishing themselves."
My favorite offshore trips each year are when my wife and a friend of hers join us on the boat for what we love to call the 'Just Us Girls Trip.' To the ladies, it seems like the day is all about them, and I am just fine with that.
The two husbands comprise the crew and ladies are the anglers. They catch all the fish, and we do all the work. We get the boat ready, put them on the fish, and the ladies have a great day on the water. When we get back, we clean the fish and the boat while they relax by the pool. It's the perfect way to wrap up the day. The wives laugh about how lucky they are, but it's the husbands who know we are the ones with lady luck on our side.