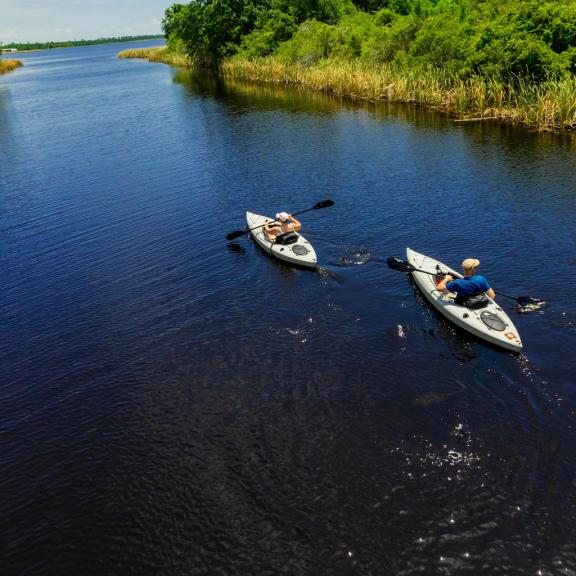 21 Places to Launch Your Kayak
Gulf Shores & Orange Beach
Explore our waterways along the Coastal Alabama Back Bay Blueway.
May 10, 2022
Kayaking is a must when you're on the Alabama Gulf Coast. Our area offers so many incredible places to explore the beautiful coastal waters.
For the outdoor and water enthusiast looking to enjoy some good paddling, the four trails on the Coastal Alabama Back Bay Blueway provide unique educational experiences, fantastic views, and wildlife. Whether you want to see history and nature collide on the Fort Morgan Trail, kayak fish on the Little Lagoon Trail, explore Gulf State Park or paddle around Robinson and Bird Islands on the Orange Beach/Wolf Bay Trail, you'll find lots of opportunities for an adventure on the water around Alabama's beaches.
If you don't have your own kayak, canoe or paddleboard, several local businesses will drop off equipment at your accommodations and/or your launch site of choice. You can even book a guided kayak tour with Wild Native and explore Alabama's coastal bayous and bays. You'll learn about cypress swamps, alligators and other wildlife, animal habitats, indigenous plants, the beaches and more. They also offer guided kayak dolphin tours where might can spot these friendly creatures jumping out of the water.
5 Tips for the Best Kayak Experience
Orange Beach & Wolf Bay Launches
Gulf Bay Road
Lat: 30.299232, Long: -87.610352
Location: Canal Road on Wolf Bay
Beach Type: Rocky
Parking: Limited
 
Graham Creek Preserve
Lat: 30.34847, Long: -87.62774
Location: Wolf Bay Drive on Graham Creek
Beach Type: Marsh
Extra Amenities: Shelters, Water Faucet, Restrooms
 
Wolf Creek Park
Lat: 30.36469, Long: -87.61913
Location: Hance Lane on Wolf Creek
Beach Type: None
Extra Amenities: Shelter, Porta Potty
 
Cypress Avenue
Lat: 30.294335, Long: -87.589811
Location: Canal Road on Wolf Bay
Beach Type: Sandy
Parking: Limited
 
Orange Beach Waterfront Park
Lat: 30.292313, Long: -87.574923
Location: Canal Road on Wolf Bay
Beach Type: Sandy
Extra Amenities: Shelters, Water Faucet, Restrooms
 
Harrison Park
Lat: 30.298691, Long: -87.554769
Location: Bayou Drive on Bay La Launch
Beach Type: Marsh
Parking: Limited
Note: May damage marsh while launching
 
Hayden Drive
Lat: 30.309719, Long: -87.519317
Location: Hayden Drive on Arnica Bay
Beach Type: Rocky
Parking: Limited
Note: Launch requires going over rocks
 
Mississippi Avenue
Lat: 30.301308, Long: -87.516342
Location: Mississippi Avenue on Bayou Saint Johns
Beach Type: Sandy
Parking: Limited
Extra Amenities: Shelter
 
Look Rook Road
Lat: 30.295148, Long: -87.537155
Location: Look Rook Road on Bayou Saint Johns
Beach Type: Sandy
Parking: Limited
 
Wilson Boulevard
Lat: 30.291355, Long: -87.558914
Location: Wilson Boulevard on Terry Cove
Beach Type: Sandy
Parking: Limited
 
Boggy Point Launch
Lat: 30.2842, Long: -87.55461
Location: Marina Road on Cotton Bayou/Terry Cove
Beach Type: None
Parking: Limited to Boat Trailers
Extra Amenities: Porta Potty
 
Jubilee Point
Lat: 30.279937, Long: -87.564528
Location: Jubilee Point Road on Cotton Bayou
Beach Type: Sandy
Parking: Limited
 
Cotton Bayou Launch
Lat: 30.271461, Long: -87.583152
Location: No Wake Road on Cotton Bayou
Beach Type: None
Parking: Limited to Boat Trailers
Extra Amenities: Porta Potty
Gulf State Park (GSP) Launches
GSP Nature Center Boat Launch
Lat: 30.26369, Long: -87.64105
Location: Campground Road on Middle Lake
Beach Type: Marsh
Extra Amenities: Shelters, Water Faucet, Restrooms, Boat Rental
 
Gulf State Park Lake Shelby Park Area
Lat: 30.25312, Long: -87.66513
Location: AL 135 on Lake Shelby
Beach Type: Marsh/Sandy
Extra Amenities: Shelters, Water Faucet, Restrooms, Boat Rental
 
Gulf State Park Marsh Bridge
Lat: 30.25611, Long: -87.67858
Location: AL 135 on Lake Shelby
Beach Type: Marsh
Parking: Limited
Little Lagoon Launches
Little Lagoon Park (Mo's Landing)
Lat: 30.255117, Long: -87.715727
Location: 18068 Fort Morgan Road on Little Lagoon
Beach Type: None
Extra Amenities: Water Faucet, Restrooms
 
Little Lagoon Pass Park
Lat: 30.2418, Long: -87.786346
Location: 1660 West Beach Boulevard on Little Lagoon
Beach Type: Sandy
Extra Amenities: Water Faucet, Restrooms
 
Jeff Friend Kayak Launch
Lat: 30.233184, Long: -87.786346
Location: 13900 AL 180 on Little Lagoon
Beach Type: Marsh/Sandy
Note: Some portage required to launch
Fort Morgan
The Pine Boat Ramp
Lat: 30.23905, Long: -87.89011
Location: AL 180 on Bon Secour Bay
Beach Type: None
Parking: Limited to Boat Trailers
 
Fort Morgan Boat Ramp
Lat: 30.231494, Long: -88.017778
Location: AL 180 on Mobile Bay
Beach Type: None
Parking: Limited to Boat Trailers
Extra Amenities: Porta Potty