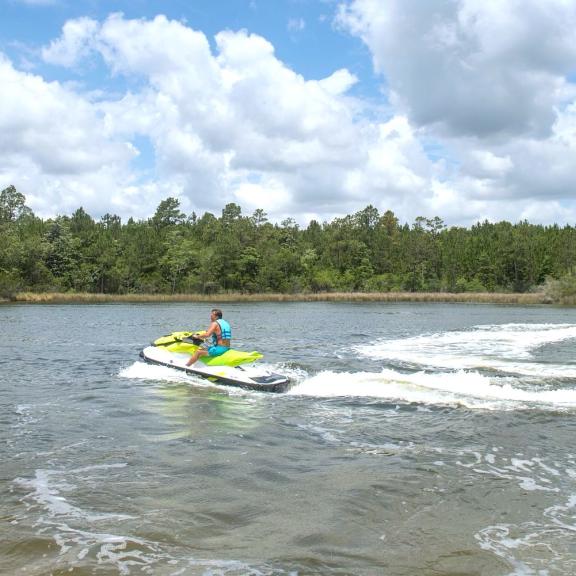 6 Exciting Watersports
In Gulf Shores & Orange Beach
March 22, 2023
Watersports are among the most exciting ways to have fun on your beach vacation, and Gulf Shores and Orange Beach are filled with adrenaline-pumping activities to get you out on the water. From speeding across the waves to soaring above the shore, here are some thrilling watersports you'll discover on Alabama's beaches.
2. Jet Skiing
There's no better way to find thrills on your beach vacation than on a Jet Ski. You can glide across the water or fly over the waves. Jet Skis allow you to explore the area at your own speed. Race through the waves alone or with others, as many Jet Skis accommodate up to three riders.
4. Screaming Eagle
Thrill seekers looking for a high-speed adventure have to take a ride on the Screaming Eagle at Hudson Marina. This speedboat will get your adrenaline pumping as it bounds across the waves. Like a roller coaster on water, the Screaming Eagle offers an exhilarating experience.
6. Foil Boarding
You may have seen people zooming across the waters along Alabama's beaches on small, motorized surfboards. Those are foil boards, the latest and greatest way to traverse Gulf Shores and Orange Beach's waterways. Foil Gulf Coast offers two-hour lessons for those looking to learn the ropes of foil boarding and fly across the waves.
Check out all water activities available in Gulf Shores and Orange Beach, and start planning your next beach trip.