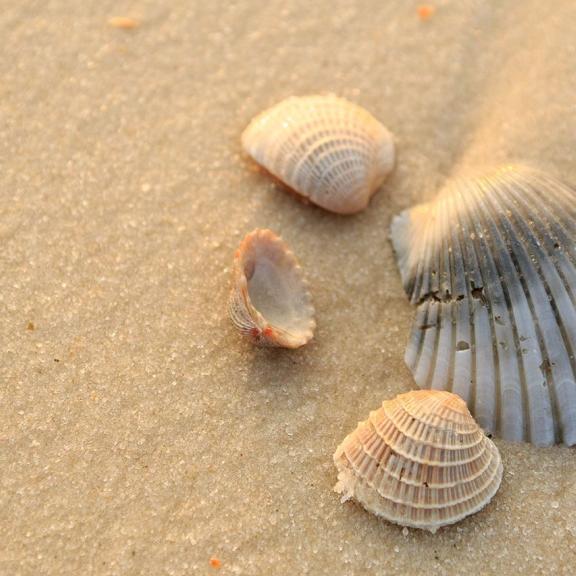 Top Tips for Shelling
on Alabama's Beaches in Gulf Shores & Orange Beach
Shelling is a favorite pastime and an extremely popular activity for both locals and visitors in Gulf Shores and Orange Beach.
March 22, 2021
Our beaches are located along the Gulf of Mexico, a body of saltwater brimming with an immense array of mollusks. Because of this, you're likely to find and collect hundreds of shells while exploring our shoreline. 
Are you new to shelling? Fear not, because in this blog we have shared what shells are, where to find them, the best time to go shelling and how to practice responsible shelling on Alabama's beaches. Scroll down to learn more!
What Types of Shells Can Be Found While Shelling?
The shells you find on our beaches were once home to various mollusks, including clams, scallops, mussels, and oysters. These animals have no backbone and, therefore, need a shell to keep them supported and protected. 
Below are some common shells found on Alabama's beaches:
Angel Wing
Ark Clams
Ballast Stones
Common Egg Cockle
Florida Fighting Conch
Coquina Clams
Lettered Olive
Mermaid's Purse
Moon Snails
Oyster Drill Snails
Oyster
Sand Dollars
Scallops
Snail Slipper
Surf Clams
For a full list, stop by our welcome centers and pick up a shelling brochure.
Best Places to Find Shells Along The Alabama Gulf Coast 
Most, if not all, of our beaches are teeming with a bounty of shells. But these four public beaches are touted as favorites by many of our locals
Alabama Point: Located at Perdido Pass Bridge is Alabama Point. This access point offers more than 6,000 feet of expansive beaches, making it an ideal spot for shelling in Orange Beach.
West Beach at Little Lagoon Pass: Lagoon Pass is a shallow waterway that connects Little Lagoon to the Gulf of Mexico. A haven for fishermen, shrimpers and more, this area easily attracts mollusks looking to shed their shells.
Gulf State Park Beach: Another popular location with spacious beaches is Gulf State Park. Because of its size, this beach is typically not crowded, so you can easily search for shells from sunup until sundown.
Fort Morgan beaches: Where the Gulf meets Mobile Bay sits Fort Morgan. This part of the island offers several secluded beaches that are both large and home to a wide array of shells.
Practice Responsible Shelling
Please don't forget that shells were once homes and safe havens for living animals. When shelling along our beaches, only take those that have washed up onshore and are no longer inhabited. Please also avoid taking shells out of the surf to help us maintain the ecosystem and protect our precious marine life. 
For more information, stop by our welcome centers to pick up our shelling brochure which includes a list of 20+ area shells, a detailed map with the top shelling spots on our beaches, and more. At the welcome centers, you can also pick up a shelling bag (while supplies last) so you have a safe place to collect and store your shells during your stay.