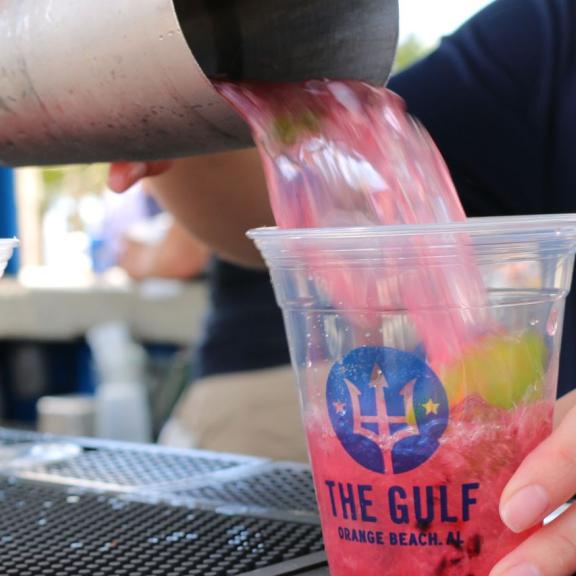 Travel Bloggers Cocktail Guide for Gulf Shores & Orange Beach
Does anything go together quite like a frozen cocktail and a sunny day at the beach?
July 12, 2021
Gulf Shores and Orange Beach are known for a tropical beach lifestyle, and that includes our scrumptious coastal cocktails. No matter what your cocktail style - sweet and frozen, salty and on the rocks, or neat and smooth - there's a unique local concoction you're sure to love. 
To help you narrow down your cocktail chase, we've asked travel bloggers to dish about their favorite local cocktails. Scroll the list to find your new favorite or add them all to your next beach vacay for a trip you'll buzz about.
REMEMBER TO COCKTAIL RESPONSIBLY
Many of our beachfront locations are within walking distance of the most popular restaurants on the strip, making it easy to chase that perfect cocktail responsibly. If you're staying off the beaten path, be sure to assign a Designated Driver within your group to get everyone home safely. Better yet, arrange for a local taxi or rideshare so everyone can join in on the fun!
WHAT TRAVEL BLOGGERS HAVE TO SAY
"My favorite drink in Gulf Shores was the Blackberry Mojito at The Gulf! Picnic tables on the beach, delicious food, and a fruity mojito - heck yeah!!! Always a winner - can't wait to come back!" - Heather Johnson, Food Hussy
"Our favorite beach cocktail in Gulf Shores is the famous Bushwacker from the Flora-Bama Yacht Club. Pair it with their Greek shrimp nachos and beignet fries and you are in for a treat!" - Bryanna Royal, Crazy Family Adventure
"When it comes to favorite beach cocktails in Gulf Shores, it is honestly hard to pick just one. There are so many epic beach bars and restaurants serving delicious cocktails it took a while for us to narrow down our favorite. One of our favorites is the Bama Breeze Cocktail at Lulu's. It is refreshing, tastes amazing, and how can you go wrong with a cocktail from one of the best restaurants in Gulf Shores? Don't miss out on a slice of key lime pie to go with your cocktail!" - Tammilee Tillison, Tammilee's Tips
"One of my favorite cocktails on all the Alabama Gulf Coast is the ¡CLARO QUE SI! at Fisher's at Orange Beach Marina. Inspired by the beaches of Mexico and the hipsters of Austin, TX, this drink starts with Hornitos Plata Tequila then mixes in a touch of Luxardo Maraschino liqueur and a hint of Citric Acid, then finishes it all off with my favorite sparkling mineral water, Topo Chico. It's a nod to the Ranch Water cocktail found on menus throughout Texas and we have a similar Topo Chico drink called Claw and Order at Gov't Taco in Baton Rouge." - Jay Ducote, JayDucote.com