A family's drive from Texas to Gulf Shores and Orange Beach
April 30, 2020
We recently spent some time in Texas and had a few days to fill during our drive between the Lone Star state and our next destination. The crystal-clear water and powdery white beaches of Gulf Shores and Orange Beach had been calling to us since our first visit two years prior. It was a no-brainer to once again add Coastal Alabama to our road trip itinerary.
The Texas To Gulf Shores & Orange Beach Road Trip Itinerary
Depending on where you're located in Texas, you can get to Gulf Shores in just under seven hours. However, because of the enormity of Texas, the drive could potentially take much longer. But, if you're like us and you enjoy road trips, you'll find that getting there is half the fun! 
Sandwiched between the great state of Texas and the Heart of Dixie are Louisiana and Mississippi, with no shortage of fun places to stop along the way. Pop into Lafayette, the capital of Cajun Country, and enjoy some of the most soulful and indulgent food in the South!
Though it requires a little bit of a detour, New Orleans isn't too far off the route from Texas to Alabama and is worth popping in. Even if you've been before, a visit to the Big Easy is always a good time. Live music can be found around every corner in downtown. And who can resist the delicious beignets from Café Du Monde and a stroll down the infamous Bourbon Street? TIP! When you get to Gulf Shores, you can also stop in Café Beignet for a beignet fix, too.
Sure, you can stay on I-10 as you next pass through the Magnolia State on your way to Alabama, but why would you? Just a few miles south of the mundane interstate is the charming region of Coastal Mississippi, complete with several small harbor towns full of character. We broke up the drive from Texas to Gulf Shores with a night in Pass Christian, MS due to its proximity to the Infinity Science Center, as we're big space enthusiasts. Even if you don't plan a stopover in Mississippi, a drive along the scenic US Route 90 should definitely be on your road trip itinerary.
Following a brief jaunt through Mississippi, you'll come upon the sign you've been waiting for! Roll down the windows, crank up the Skynyrd and belt out the lyrics to Sweet Home Alabama as you cross the border into the Heart of Dixie! From here, it's only an hour and a half until you reach Gulf Shores and Orange Beach. You're almost there!
Treat Your Taste Buds on Alabama's Beaches
No doubt you'll work up an appetite during your time at the beach and exploring the surrounding nature of Gulf Shores and Orange Beach. Good thing there are plenty of delicious and unique restaurants to choose from. Take a break from the traditional TexMex and BBQ found in Texas and enjoy the tantalizing flavors of the South! Whether you have a hankering for fresh seafood straight from the Gulf, home-cooked Southern comfort food, or healthier fare made from fresh, local ingredients, you'll find something to satisfy your cravings. A few of our favorites include Picnic Beach, Lulu's, Woodside Restaurant, and YoHo Rum & Tacos.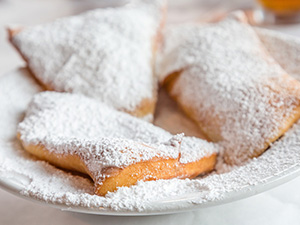 So, while the trip from Texas to Alabama may seem like a long haul at first glance, it's worth the journey! With fun stops along the way, unbelievably gorgeous beaches, plenty to do around town, and food that will keep you drooling long after you're gone, Gulf Shores is a fantastic road trip getaway perfect for the entire family.
Escape your ordinary and enjoy the extraordinary in coastal Alabama!