Author Talk with Lynne Hilton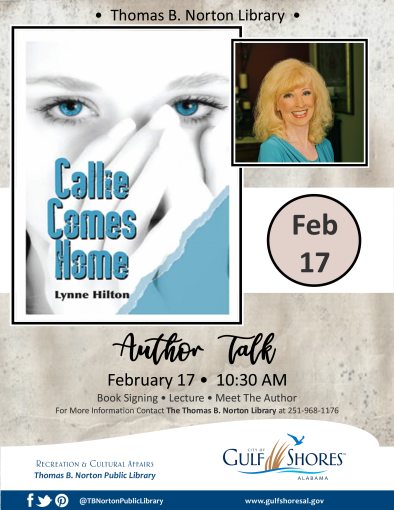 Meet the author of Callie Comes Home,  Lynne Hilton, for a lecture and book signing.
From the book, Callie Comes Home:
Callie Wells asks herself, "Why do I keep making the same mistakes over and over again?" Although a talented, creative, and successful small business owner, Callie finds herself trapped in a perpetual cycle of self-destruction and guilt. Haunted by her secret past, Callie abandons her southern roots and escapes to the Gulf Coast, hopeful that no one will find out the source of her pain. Callie's life journey is one of silent suffering.
Will she find the courage to break free?
Coffee and light refreshments will be served.
For more information, contact the library at 251-968-1176.