Southern Song Series
Friday, Mar 06, 2020 -
Sunday, Mar 15, 2020
March 6 & 13 (Friday) @ 7:30 pm. March 7, 8, 14 & 15 (Saturday & Sunday) @ 2:30 pm
South Baldwin Community Theatre
Get Directions
Hours of Operation
6PM-10PM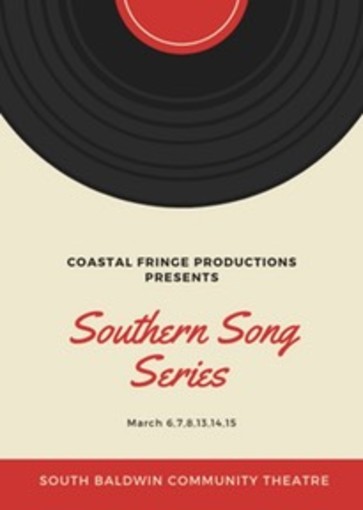 Admission:
Adults:$18, Students $15
Beginning with a couple of classic blues songs and ending up somewhere between a smidgen of country with a big ol' side helpin' of southern rock, we are bringing y'all some good ol' music from the south, darlin. Our journey will go from down at the Crossroads then we might take a midnight train to Georgia or by way of walking in Memphis and back down to the Tallahatchie bridge then over to enjoying some jambalaya on the bayou with a bunch of moseyin' here, there, and yonder. Honey, y'all and ya mama and them need to join us as we weave our way through the beauty and richness of the southern sultry sounds of the south. Presented by Coastal Fringe Productions, showcasing live music and a teeny bit of story tellin'. Y'all come on out now!
Directed by: Andrea Plante
Featuring Lisa Cristian and The Bitter End Band
March 6 & 13 (Friday) @ 7:30 pm.
March 7, 8, 14 & 15 (Saturday & Sunday) @ 2:30 pm
See the South Baldwin Community Theatre website for performance package discount options.
Click here for directions to the theatre.