Classic Christmas at Legends In Concert
Wednesday, Nov 17, 2021 -
Saturday, Jan 01, 2022
From: 07:00 PM to 09:00 PM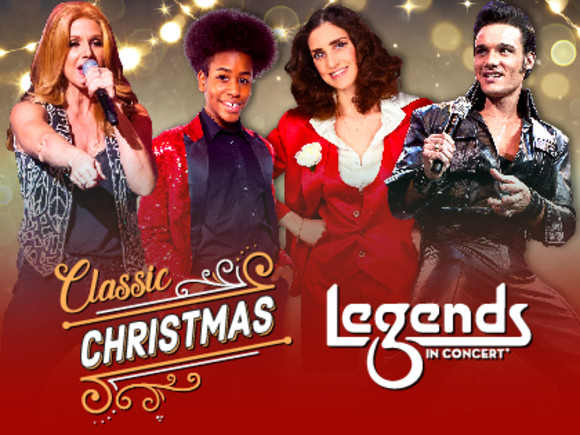 Admission:
Adult Tickets Starting at $39.95
Classic Christmas Lineup!
Tributes to
Elvis Presley
Celine Dion
Young Michael Jackson
& Karen Carpenter
Legends In Concert has a spectacular lineup of the world's most famous and influential icons and the biggest names in music history ready to entertain you. The longest-running and most-awarded show in Las Vegas will wow you this holiday season at the OWA Theater.
Coming soon, the all-new Classic Christmas will pay tribute to music royalty including Celine Dion, Karen Carpenter, Young Michael Jackson and Elvis Presley.  The show will run Wednesday through Saturday at 7 p.m. with additional 3 p.m. matinees on Saturday and Sunday.
Elisa Furr, currently featured on the E! Hit television show Clash Of The Cover Bands, will present the powerhouse vocals of Celine Dion, while Broadway performer, Nathaniel Cullors will pay homage to the Young Michael Jackson, singing your favorite Jackson 5 hits.  No superstar says Christmas more than Karen Carpenter, and no one does it better than Sally Olson, making her debut at OWA. Elvis is back in the building, as Leo Days will have a "Blue Christmas" without you this holiday season. 
A dynamic, blockbuster opening number begins the festivities with The Brian Setzer Orchestra's rendition of "Jingle Bells."  For the big finale, the Legends band brings music memories to life with a sensational tribute to the Trans-Siberian Orchestra's "Christmas Eve in Sarajevo" ("Carol of the Bells") and the entire cast will join them and perform "The Most Wonderful Time of the Year." The magical sounds of the season are sure to fill the OWA Theater halls throughout the Christmas holidays.
Run Dates
November 17, 2021 – January 2, 2022
Wednesdays – Saturdays: 7 p.m.
Saturday & Sunday Matinees: 3 p.m.
Dark Thanksgiving, Christmas Eve and Christmas Day
Showtimes and Lineup subject to change.