Tacky Jacks Gulf Shores - Free Kids Beach Games Every Thursday!
From: 11:00 AM to 12:00 PM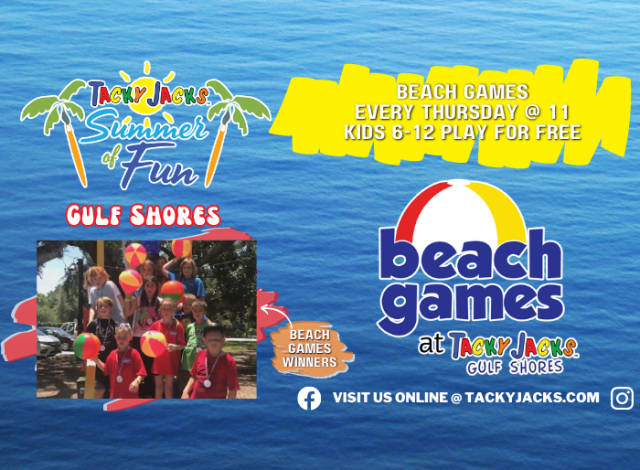 Activities on Thursdays: Beach Games. 
Free to kids ages 6-12 yrs. Kids compete in games, challenges, and more. All participants get a free lunch from Tacky Jacks, prizes, and get to be on Tacky TV!
Kids must be able to take directions independently for their safety.
Parents can compete in a friendly game of water balloon dodgeball for prizes!
Reservations are required for all Summer Activities.
Register online today to secure your spot! Please arrive 15 minutes prior to each activity.  Meet downstairs at Jack's Bar.
Admission:
Free, ages 6-12.
See All Dates

06/08/2023

11:00 AM - 12:00 PM

06/15/2023

11:00 AM - 12:00 PM

06/22/2023

11:00 AM - 12:00 PM

06/29/2023

11:00 AM - 12:00 PM

07/06/2023

11:00 AM - 12:00 PM

07/13/2023

11:00 AM - 12:00 PM

07/20/2023

11:00 AM - 12:00 PM

07/27/2023

11:00 AM - 12:00 PM