The 2019 Southern Grace Summer Lineup
Thursday, Jun 06, 2019 -
Thursday, Aug 08, 2019
From: 06:30 PM to 11:00 PM
Fisher's at Orange Beach Marina
Get Directions
Hours of Operation
5PM-10PM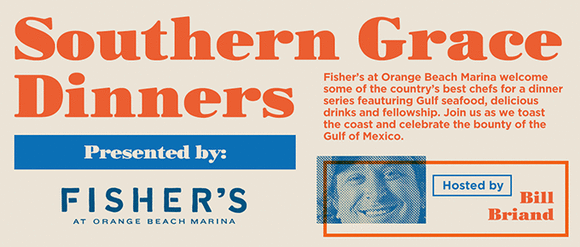 Admission:
Tickets start at $150 per person, and several of the dinners include signed copies of the chefs' cookbooks. Seating is limited to around 100 guests and tends to sell out fast.
Now in its sixth installment, the highly anticipated summer culinary series has managed to become even more star-studded. Fisher's at Orange Beach Marina announces it will host the Southern Grace dinner series featuring award-winning and celebrity chefs from across the South. Fresh off his nomination for a James Beard Award, Fisher's Executive Chef Bill Briand will open up his kitchen to spotlight the talent and cuisine of notable chefs from across the region.
June 6: Isaac Toups
Tickets are $145. Click HERE for tickets.
June 20: Ryan Prewitt, Andy Ticer & Michael Hudman
Tickets are $145. Click HERE for tickets.
July 18: Matt Bolus, Erik Niel, Bron Lindsey, and Roy Milner
Tickets are $165. Click HERE for tickets.
July 25: Kelly Fields, Justin Devillier, Michael Gulotta, Sue Zemanick
Registration is closed. The registration limit has been met.
August 8: Chris Shepherd
Tickets are $145. Click HERE for tickets.
These exclusive dinners will allow guests the opportunity to mix and mingle with their favorite chefs at a cocktail reception, followed by a communal-seated dinner in Fisher's laid back and relaxed signature style. A portion of the proceeds benefits The Fuse Project, a nonprofit 501C3 organization dedicated to providing the spark for innovation, funding and implementation of projects benefitting children along Alabama's Gulf Coast. Fuse Project invests in initiatives promoting the health, fitness, education and social responsibility of our children.