Eat Your Way Around the Shrimp Trail
A Part Of The Beach Bites Series
While there are probably more than 101 ways to eat shrimp, you get to decide which ones make your stomach happy when you embark on a shrimp trail through Gulf Shores and Orange Beach.
BREAKFAST
Get your shrimp kick early with a stop at Tacky Jacks in Gulf Shores, Orange Beach or Fort Morgan. Fuel up for a day on the water with the Shrimp Omelet - Tacky Jacks proclaims it the "best on the bayou,"and it's packed with shrimp and cheese.
LUNCH
Did you work up an appetite? Feast on an all you- can-eat shrimp plate at Mikee's Seafood in the heart of Gulf Shores. You surely won't leave hungry after filling up on shrimp, hushpuppies and your choice of baked beans, turnip greens or marinated cabbage with new potatoes or fries. A nap on the sand may be on your agenda following lunch. Don't forget the sunscreen! >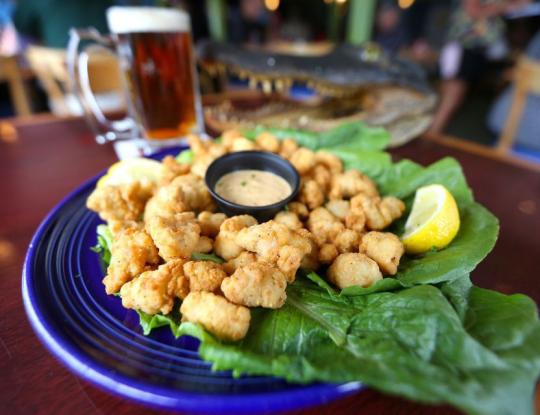 DINNER
Ready to combine some seafood love? Mix shrimp and crab with the Stuffed Shrimp at DeSoto's Seafood Kitchen. Your taste buds won't know what hit them when you bite into baconwrapped shrimp stuffed with baked crabmeat dressing and topped with Monterey Jack cheese.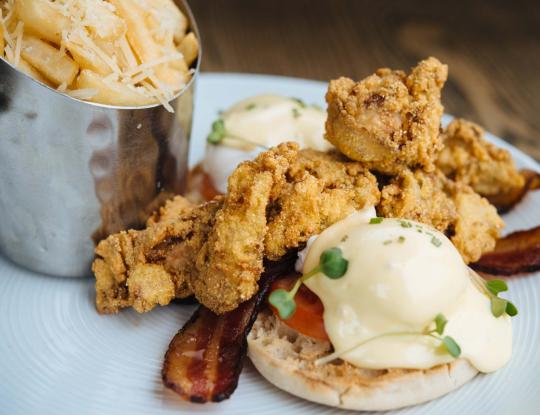 BREAKFAST
It's a Southern specialty you'll find all over the island, but the Shrimp and Grits at Brick & Spoon in Orange Beach will have you coming back for seconds. Topped with a poached egg, this rich breakfast is filled with fresh Gulf shrimp, red and green bell peppers, onion, house garlic, cream sauce and fire-roasted corn grits.
LUNCH
Grilled, steamed or fried – however you like them, you can have them at either location of the Shrimp Basket in Gulf Shores and Orange Beach. You've got choices! Don't let the name "popcorn shrimp" fool you. They pack a whole lot of flavor!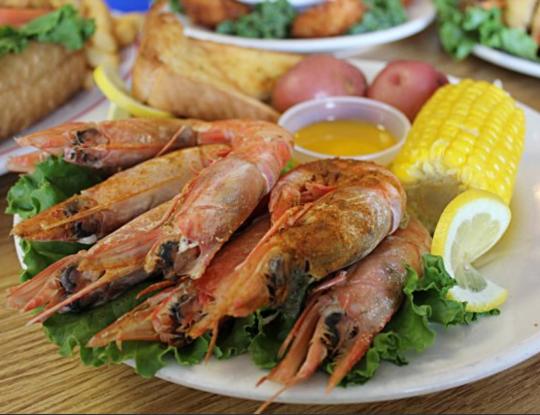 DINNER
Sitting down to a platter of Royal Reds at King Neptune's Seafood Restaurant is a family tradition for many visitors during their Gulf Shores vacation. Royal reds are shrimp that can be as large as a banana and as succulent as a lobster.
Simply Can't Wait? Try Grilled Gulf Shrimp
Recipe Courtesy of Tim McBride
Prep:
Cooks in 10 minutes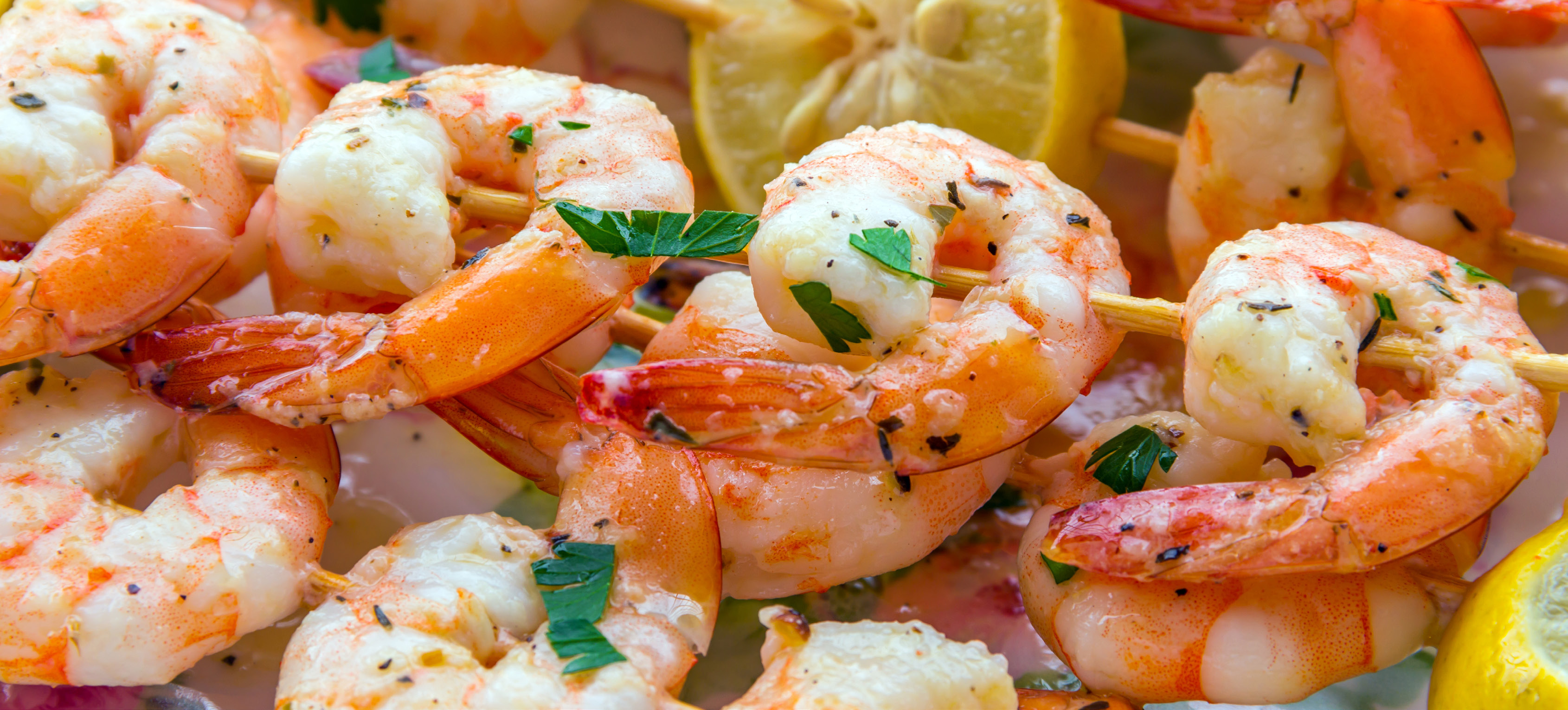 Ingredients
1 cup olive oil
1/4 cup chopped fresh parsley
1 lemon juiced
2 tablespoons hot pepper sauce
4 cloves garlic, minced
2 teaspoons dried oregano
1 teaspoon sea salt
1 teaspoon ground black pepper
2 pounds large gulf shrimp (or royal reds), heads removed, deveined with tails on
Directions
1- In a mixing bowl, mix together olive oil, parsley, lemon juice, hot sauce, garlic, oregano, salt and black pepper. Reserve a small amount for basting later. Pour remaining marinade into a large resealable plastic bag with shrimp. Seal, marinate in the refrigerator for 2-3 hours turning bag several times.
2- Preheat grill for medium - low heat, lightly oil grill grate or seafood grate. Cook shrimp for 5 minutes per side or until opaque, basting frequently with reserved marinade.