Eat Your Way Around the Shrimp Trail
Gulf Shores & Orange Beach
While there are probably more than 101 ways to eat shrimp, you get to decide which ones make your stomach happy when you embark on a shrimp trail through Gulf Shores and Orange Beach. Below are some creative dishes that include shrimp at a few of the restaurants along our beaches.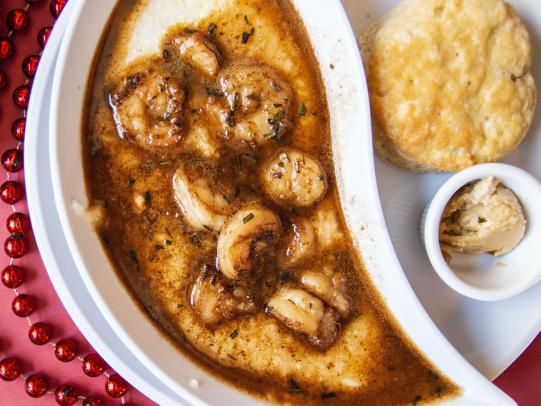 BREAKFAST
Start day one with a mimosa and BBQ shrimp and grits at The Ruby Slipper Café in Orange Beach. Not your typical shrimp and grits, this dish includes sautéed shrimp with beer and rosemary butter reduction over creamy stone-ground grits and is served with a buttermilk biscuit.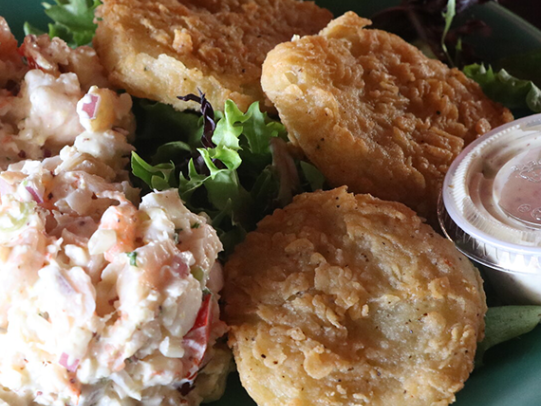 LUNCH
Looking for a lighter lunch option on the shrimp trail? Try Lucy Buffett's LuLu's Summer Shrimp Salad. This is no plain salad. Rather it's delectably prepared with fresh Gulf shrimp, celery, red onion, bell pepper and egg, lightly tossed in mayonnaise with LuLu's Crazy Creola Seasoning Mix. Order this salad, and you also get fried green tomatoes with LuLu's famous Wow Sauce.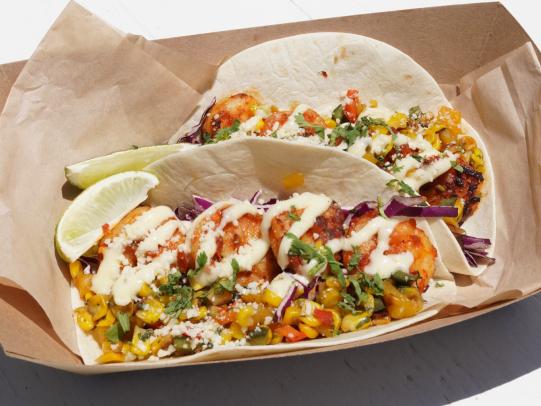 DINNER
Enjoy dinner by the water at The Gulf in Orange Beach. This outdoor spot offers delicious food, incredible views and a unique, beachy atmosphere. While there, be sure to try their yummy shrimp tacos, served with pineapple-corn salsa, smokey ancho aioli, napa cabbage and fresh cilantro. You can have them in flour tortillas or in a rice and bean bowl.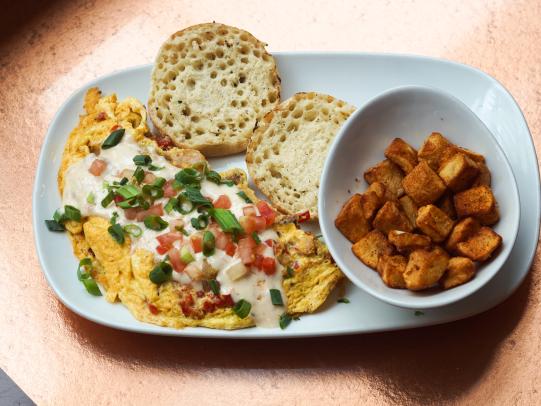 BREAKFAST
Breakfast is the most important meal of the day, so start it off right at Another Broken Egg Cafe. The Mardi Gras Omelet is a must-try. It's filled with Louisiana crawfish, Gulf shrimp, andouille sausage and red peppers and is topped with tomato hollandaise, tomatoes and green onions. Served with an English muffin and grits, this meal will definitely leave you satisfied.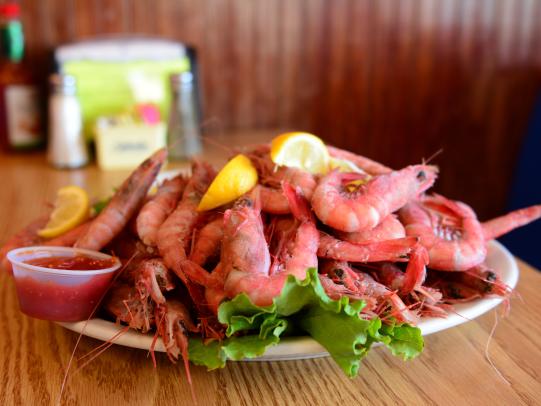 LUNCH
A local favorite, King Neptune's Seafood Restaurant in Gulf Shores provides the highest quality fresh seafood daily. King Neptune's serves Alabama wild shrimp that are brought in right off the boat from Bon Secour Fisheries. The Royal Red shrimp platter is a must-have and is served with steamed new potatoes, fresh corn on the cob, and garlic butter toast.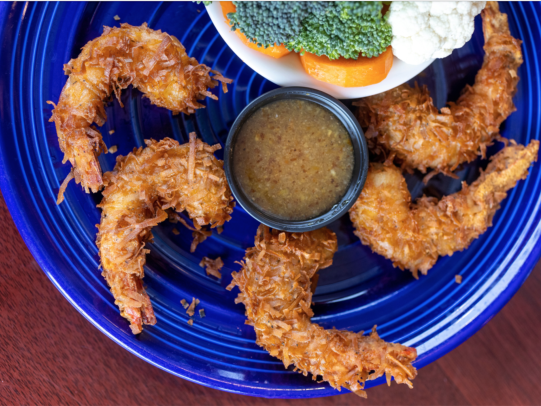 DINNER
Head to DeSoto's Seafood Kitchen for a delicious dinner. While there are many great things on the dinner menu, we suggest you bring your gaze to the appetizers and order the coconut shrimp. Large gulf shrimp are dipped in the restaurant's ale beer batter, rolled in coconut flakes and finally flashed fried to perfection.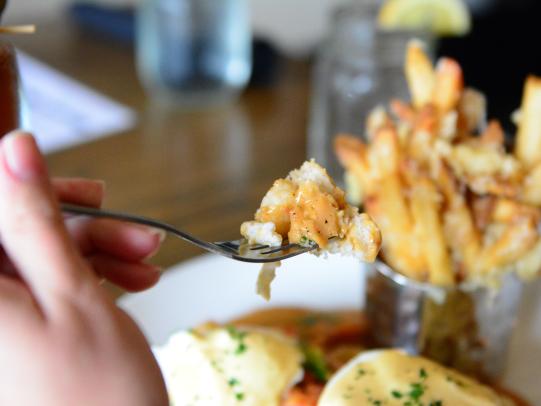 BREAKFAST
Begin your final day at Brick and Spoon in Orange Beach. An ideal spot for brunch, you'll discover dozens of tasty meals on the menu. Shrimp lovers will love the bayou benedict, which comes with blackened shrimp, onions, bell peppers and a Cajun cream sauce. All of this deliciousness is served on a biscuit with poached eggs and house-made hollandaise.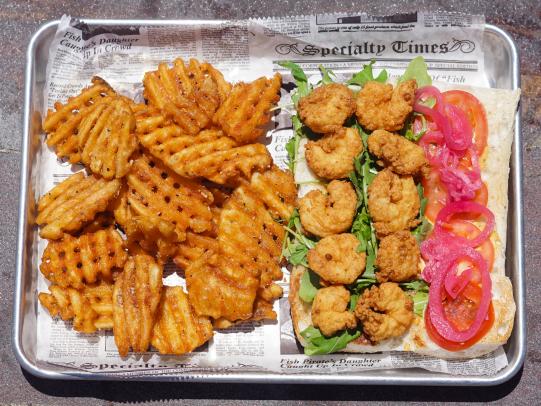 LUNCH
Just as the name suggests, the seafood at Fresh Off the Boat is right from the Gulf. Head over to this fun joint for lunch and try their Gulf shrimp po'boy. This yummy sandwich comes with arugula, Roma tomatoes, pickled red onions and the restaurant's signature Beachin' sauce and is served with waffle fries.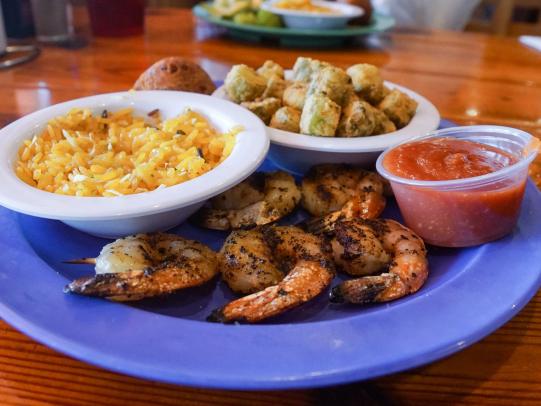 DINNER
You can expect to find fantastic seafood right from the Gulf at Gulf Island Grill in Gulf Shores. Finish your delicious three-day journey with this restaurant's shrimp kabobs. This mouthwatering island meal combines the fresh shrimp of the Alabama Gulf Coast with the taste of the Caribbean.
Simply Can't Wait? Try Grilled Gulf Shrimp
Recipe Courtesy of Tim McBride
Prep:
Cooks in 10 minutes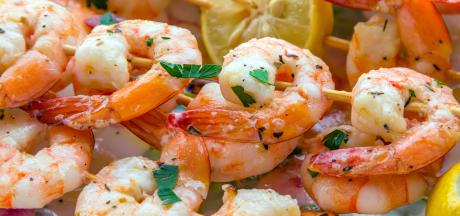 Ingredients
1 cup olive oil
1/4 cup chopped fresh parsley
1 lemon juiced
2 tablespoons hot pepper sauce
4 cloves garlic, minced
2 teaspoons dried oregano
1 teaspoon sea salt
1 teaspoon ground black pepper
2 pounds large gulf shrimp (or royal reds), heads removed, deveined with tails on
Directions
1- In a mixing bowl, mix together olive oil, parsley, lemon juice, hot sauce, garlic, oregano, salt and black pepper. Reserve a small amount for basting later. Pour remaining marinade into a large resealable plastic bag with shrimp. Seal, marinate in the refrigerator for 2-3 hours turning bag several times.
2- Preheat grill for medium - low heat, lightly oil grill grate or seafood grate. Cook shrimp for 5 minutes per side or until opaque, basting frequently with reserved marinade.