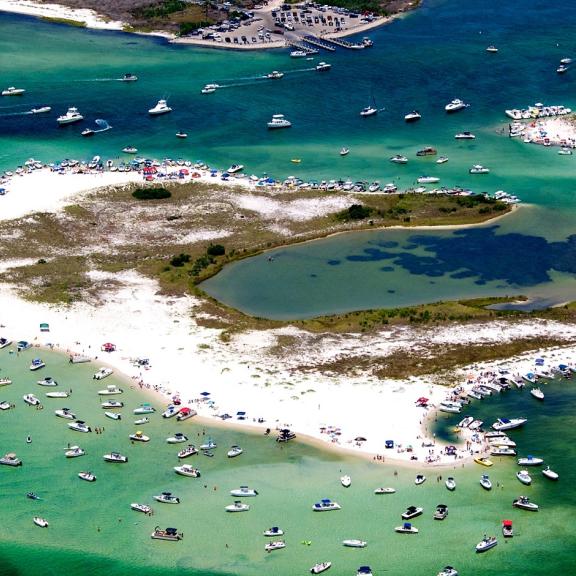 Fun Facts
about Gulf Shores & Orange Beach
The nickname "Pleasure Island" was suggested by Gov. Jim Folsom and was officially adopted by the Gulf Shores Lions Club in 1949. 
Alabama boasts the largest artificial reef program in the U.S. Alabama Marine Resources Division currently manages more than 1,060 miles of artificial reefs off its coast. In 2021 Alabama added nine new sections to its pre-existing artificial reef zones. 
Pirates once hid in Perdido Pass and Perdido Bay, waiting to raid ships, and were rumored to have buried some of their loot in Baldwin County. 
Orange Beach was named after the short-lived success of locals who attempted to grow oranges, grapefruit and satsuma trees on the shores. 
Lake Shelby in Gulf State Park is believed to be one of the closest bodies of freshwater next to a body of saltwater in the world. 
The Gulf State Park Fishing Pier is the largest in square footage along the entire U.S. portion of the Gulf of Mexico. 
Fort Morgan was purchased for $8,000 in 1927 by the State of Alabama. The first Native American village in America to be visited by an explorer was located near the present-day site of Shellbanks Baptist Church on Fort Morgan Road in Gulf Shores. 
Admiral David Farragut reportedly uttered his famous words, "Damn the torpedoes…full speed ahead," just off the shores of Fort Morgan State Historic Site. 
LuLu's at Homeport Marina, owned by Jimmy Buffett's sister, typically hosts about 4,000 hungry patrons per summer day. 
Ono Island, which was once called "Goat Island," was purchased in 1945 for $3,000. Ono is now home to some of the destination's most spectacular multi-million-dollar homes. 
The Ferris wheel at The Wharf is the second tallest in the Southeast. This Italian-made structure stands at an impressive 112 feet.