Coastal Alabama Bird Banding Project
Tuesday, Apr 16, 2019 -
Saturday, Apr 20, 2019
April 16: noon – 3pm, April 17, 18, 19: 8am- 3pm, April 20: 8am- noon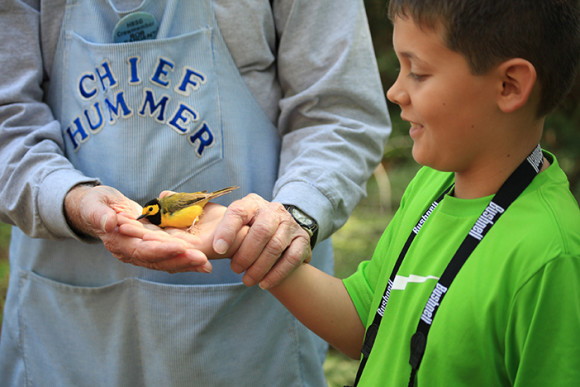 Admission:
The banding is free, there is an admission fee to enter the park.
Public bird banding returns to the Alabama Gulf Coast again this spring, courtesy of Birmingham Audubon and its partners Alabama Department of Conservation & Natural Resources, Mississippi State University, Gulf Shores & Orange Beach Tourism, the Alabama Historical Commission, Mobile Bay Audubon Society.
This year's banding event runs from Tuesday, April 16 to Saturday, April 20 at Baldwin County's historic Fort Morgan. We invite the public to join us during the following hours:
Tuesday, April 16, noon – 3pm
Wednesday, April 17, 8am- 3pm
Thursday, April 18, 8am- 3pm
Friday, April 19, 8am - 3pm
Saturday, April 20, 8am- noon
Reviving the bird banding program originally championed by the late Bob Sargent and his wife, Martha, this event provides an invaluable look at spring migrants traveling across the Coastal Alabama section of the Mississippi Flyway. Throughout the week, participants enjoy unparalleled access to the researchers and the work, with up-close-and-personal views of some amazing birds.
Remember to bring water, bug spray, sunscreen, and perhaps an outdoor chair; restrooms and concessions are available next to the ferry, and all ages are welcome to attend. (Please note that while the Coastal Alabama Bird Banding Project is free, there is an admission fee to enter the park. For up-to-date pricing, visit http://www.fort-morgan.org.)