An After-Thanksgiving Sail to remember!
November 25, 2010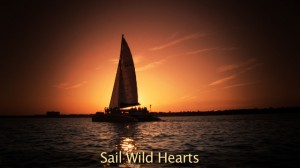 If a great bargain isn't the kind of thrill you need this Saturday, get your heart racing on the open sea at Wild Hearts After-Thanksgiving Sail. The sunset cruise sets sail at 3:00, Saturday, November 27.
Wild Hearts is a 53-foot catamaran designed
for open ocean sailing. Painted joyful yellow, with a mast rising 72 feet, and a sail more than 1000 square feet, you can't miss Wild Hearts. And why would you want to? Her size and strength allow her to accommodate 49 guests in safety and comfort and her speed allows for an exhilarating, fun experience.
The two-hour pleasure excursion includes soft drinks and light appetizers, reasonably priced at $29.95 per person.  The sail departs from The Perdido Beach Resort, on the north side of Perdido Beach Boulevard.
For more information or to make reservations, contact Captain Cunningham, 251-981-6700, www.sailwildhearts.com, 251-981-4807, 251-404-2735.