From Catching to Cooking
Gulf Shores & Orange Beach
June 20, 2014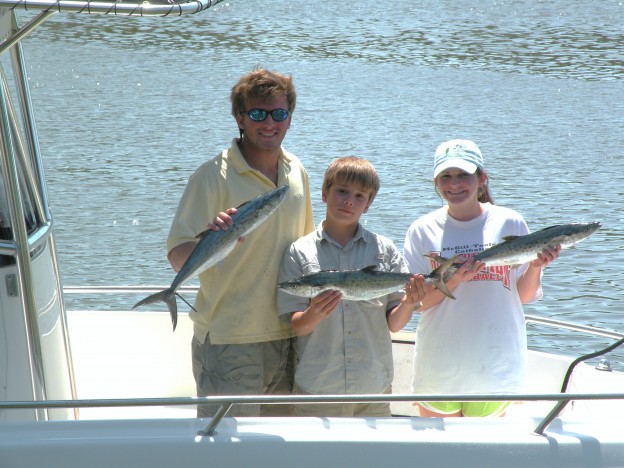 Now that the short red snapper season is over, anglers can turn their attention much closer to shore for action that is suitable for the entire family no matter the size of the boat. Trolling the front beach provides plenty of entertainment and is a perfect way to introduce youngsters or new anglers to Gulf fishing.
Because I've been around the Gulf Coast for a long time, I have plenty of memories of catching Spanish mackerel, small king mackerel and redfish trolling the beach with Capt. Iris Ethridge and her late husband, Bill.
While Capt. Iris decided not to continue their charter business after Bill died in 2002, she remains active in the fishing community on the Alabama Gulf Coast as secretary/treasurer of the Orange Beach Fishing Association and the Alabama Gulf Coast Reef and Restoration Foundation. She also remembers every detail of how she and Bill helped thousands of people enjoy Gulf fishing without leaving sight of the beach. And those techniques still work today.
"I remember we were the first to use the hot pink Halco spoons," Iris said. "It wasn't long before you couldn't find a hot pink spoon on this island. We also used a chartreuse spoon. Sometimes the fish would hit one and sometimes the other. I guess they like a change in diet, too."
When a bonita (also bonito) would hit one of the spoons, the fish would be used to enhance the attraction of the lure. Strips of the bonita's belly would be cut and hooked on the back of the spoon for added movement and scent.
The spoons were always deployed in a staggered pattern behind the boat to prevent tangling, especially when the boat would make a turn.
When trolling a little farther from the beach, small planers were utilized to get the lures deeper in the water column.
Any tackle shop in the Gulf Shores and Orange Beach area can help with the purchase of the correct planers and spoons, as well as terminal tackle like leaders and leader material. For Spanish, most of the time, a 20-pound-test mono-filament or fluorocarbon leader is all you'll need. If you happen across a few king mackerel, you may have to switch out to wire leader.
Capt. Iris said the trolling speed usually varied between seven and 11 knots, depending on the sea conditions and what the fish seemed to like best on that particular day.And it doesn't really matter what size boat you have as long as it's in good working condition.
"Bill and I started out in a 19-foot boat and moved up to a 22 and then to a 31-foot boat so we could take more people fishing," Capt. Iris said. "We had fun in every boat we had." Because Spanish is a somewhat oily fish, it's best to fillet the fish and get it on ice as quickly as possible.
Capt. Iris has a specific method to follow. Immediately after filleting the fish, place fillets on ice and cover with ice, this firms and lightens the flesh to get it ready for frying.
For the dry ingredients, use two-thirds cornmeal, one-third self-rising flour, sea salt and coarse ground black pepper. Take several eggs (depending on the number of fillets to be fried), beat and add milk until a light yellow color is achieved for the egg wash.
Take fillets, and rinse in cold water. Pat dry, and submerge in egg wash. Then roll fish in dry ingredients.
"I like to fry my fish in corn oil," Capt. Iris said. "Some people like peanut oil, but I prefer corn oil. Heat it to 350, fry the fillets until they're golden brown and enjoy."