What's Biting Report: Hot Gifts for Inshore Anglers
December 23, 2014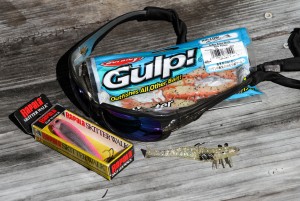 Finding the perfect Christmas gift for the anglers in your life can often be a frustrating endeavor. The problem with avid anglers is they often don't hesitate to run out and purchase the "latest and greatest" fishing lure and spinning reels or whatever.
That leaves loved ones at a loss as to what to put under the tree for these anglers.
For those anglers who might be adding a little color, as in gray, to their hair (or possibly losing it), one of the handiest outdoor items I added to my arsenal when I started having a hard time tying knots was a pair of ONOS Performance Sunglasses with built-in readers. This Alabama company has a variety of frames for men and women with readers built in. ONOS can also provide you with prescription glasses.
When it comes to the essential fishing lures for inshore and nearshore anglers, the bait I make sure is in my tackle box is a shrimp imitation, because everything that lives in water will eat a shrimp. Of course, we landlubbers consume millions and millions of pound each year as well. You can't go wrong with the DOA shrimp, which can be fished by itself or under a popping cork. The same goes for the Vudu Shrimp, which has nylon line woven into the body of the bait to increase durability.
When the action is good, I make sure I have plenty of Fin-S Fish grubs on hand with the corresponding Fin-S jig heads that are specially designed for the Fin-S soft plastic lures. When the fish are little more finicky, I tie on a Berkley Gulp bait. Most of the time it's the Gulp shrimp, but there are new Gulp baits this year – the Hollow Shrimp, Doubletail Swimming Mullet and Doubletail Minnow Grub that should work well. If the topwater bite is on, you can't go wrong with a Rapala Skitter Walk, probably the easiest lures to "walk the dog" with, or a Zara Spook. The majority of saltwater anglers I know prefer spinning tackle over baitcasters. Although I prefer baitcasters unless I'm throwing light lures or delicate live, spinning tackle is easier to use for the newcomers or occasional anglers.
Unless you're fishing on the end of the Gulf State Park Pier, my recommendation would be to stay with the smaller reels with especially good drag systems. Most inshore fish will make an initial run and then quickly tire. I like the 2500 series reels from Shimano, which has a version for every budget, including the premier Stella. Problem is every time I pick up a Stella reel, I have to do my Marlon Brando impression from "A Streetcar Named Desire." Penn, a legendary name in saltwater fishing, also has some new reel offerings, including the Conflict spinning reels with a new drag system. The new Spinfisher V sports a sealed system that precludes saltwater from getting into the gearbox or drag system.
When it comes to rods, the normal these days is a 7-footer with a medium action for most inshore fishing. If you decide to tackle the bull reds on Dixey Bar, you might want to have a medium-heavy action rod in the boat. Penn's new inshore rod is called the Battalion, an affordable rod with a graphite blank and Fuji guides. If the Christmas budget is more liberal, consider the St. Croix LegendXtreme rod, winner of the best saltwater rod at the annual tackle show.
If you still can't decide, take a trip to one of several tackle shops along the Alabama Gulf Coast and get friendly advice to make sure the anglers in you life will have a smile on Christmas morning.