Three Reasons Sports Planners Will Love Our New Website
February 7, 2015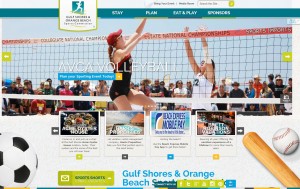 After much planning and work, the newly redesigned Gulf Shores and Orange Beach Sports Commission website has been revealed and is live! On the site, you'll find information on what we do and where we're going. Our team listened to you to craft a
site that reflects what you want, but also builds upon technology capable of addressing future needs.
While there are a host of things you'll love about the new site, as sporting event planners, we've listed three that will help you hit a homerun for your team.
Bring Your Event. This is the page you'll use to get the ball rolling for your Gulf Shores tournament or Orange Beach sporting event. On this page, you'll submit your organization information to us, your new teammates. A member of the sports staff will gather information, then contact you to gather your needs and specifics.
Services. Planning a destination sporting event is a time-intensive task. When you have an event in Gulf Shores or Orange Beach, our team becomes an extension of your team. On the services page, you'll find out all about how we can be your pinch hitter with your event details, from complimentary welcome bags to access to volunteers.
Promoting Your Event. We know how important it is for you to meet and exceed your goals. That's why we provide additional tools and services to help you market your event. We provide pre-packaged social media content to reach potential participants, as well Gulf Shores and Orange Beach photos and videos.
You'll find additional useful information, too, such as specifics on facilities and grants to assist you in holding your event on the Alabama Gulf Coast. Lastly, the website is packed with information on upcoming events, lodging and activities for the teams attending your upcoming beach tournament. Visit the new site and let us help you get your game plan together.