Gumbo Key Boat-In Concert Set June 20, Orange Beach
April 16, 2015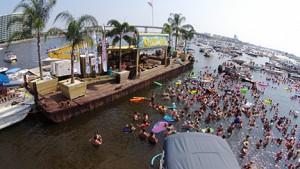 Mythical. Musical. Merriment. Join the temporary citizens of Gumbo Key, by Bird Island just north of the pass at Alabama Point, for a few hours on June 20. Music lover Mac McAleer brings back the sounds of Gumbo Key, a mythical place, for a day of sun,
fun and live entertainment. Whether you're on Alabama's beaches for vacation, sporting event or even a beach convention, Gumbo Key is a unique, can't-miss event.
The music begins when the first barge rolls into the area at noon and continues through 5 p.m. The inaugural concert in 2014 brought in 400 boats and more than 1,000 people to enjoy the sounds of live Southern music. Local acts including the Wes Loper Band, Kyle and Karl, Ryan Balthorp, Jon Cook and Lee Yankie entertained concertgoers from tropically decorated barges. Local bands will again headline the 2015 event.
Those attending in 2014 listened from in the water and aboard their boats. Gumbo Key was marked with a ring of Noodle floats and a 16-foot flag. McAleer declared himself mayor of Gumbo Key for the day. The event scored high marks for not leaving behind any trash that might hurt the fragile ecosystem of the area.
How do you attend? Find a boat! Ride with a friend or split the cost of renting a boat with a group.
According to concert organizers and attendees, Gumbo Key isn't so much a place as it is a state of mind. Be on the lookout for more updates as the concert nears.