What's Biting: Can't miss weigh-ins and fishing tournaments
May 20, 2015
There is no shortage of fishing tournaments in our area - from five dollars in a Mason jar type tournaments to events with millions of dollars on the line. Our local fishermen like to compete, and fishing fans like to see big fish brought to the scales.
Memorial
Day weekend Day weekend is the traditional kick-off to the big game tournament season
along the Gulf Coast. The Mobile Big Game Fishing Club annually hosts the largest tournament of its kind in the Gulf of Mexico. Sport fishing yachts from south Florida to Texas arrive in Orange Beach this week to chase big fish and big dollars. The tournament purse will be close to one million dollars with an additional million dollars up for grabs if someone catches the new Alabama state record Blue Marlin. The current record is 845 pounds caught by Chris Ferrera.
[caption id="attachment_4820" align="alignright" width="201"]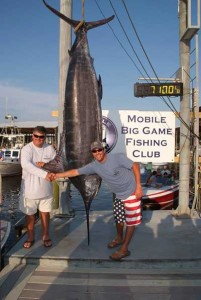 Anglers will be looking for a blue marlin like this tournament winner caught aboard Cotton Patch during the 2014 MBGFC Memorial Day Tournament.[/caption]
"We are the only tournament in the country to offer a one million dollar prize for a new state record blue marlin," said MBGFC tournament chairman Joe Crow. "Our Memorial Day Tournament is always the largest tournament in the Gulf, and it's one of the top five largest big game tournaments in the country," said Crow. "Weather always plays a part in exactly how many boats will participate, but we expect our usual 100 to 125 boats."
Teams will venture up to 250 miles offshore to compete in the categories of billfish catch-and-release, tuna, dolphin (mahi-mahi), and wahoo as well as the blue marlin category. Crow says the huge blue marlin is what makes the MBGFC tournament a great spectator sport. "We have families that come to our tournament every year just to watch the weigh-ins. It's a great atmosphere when those big boats back in with all those amazing fish they put up on the scale," said Crow. "One of my favorite parts of our tournament is seeing how excited the young kids in the crowd get when a big fish is brought in." Weigh-ins start at 4 p.m. on Sunday at the MBGFC Clubhouse at Orange Beach Marina on Marina Road. There is no charge to attend the weigh-ins.
In a couple weeks, we go from big game tournaments to everyone just having a big time. In what's billed as 'The Funnest Fishing Tournament on the Gulf Coast,' the second annual Flora-Bama Fishing Rodeo takes place at the Flora-Bama Yacht Club and Marina June 11-14.
This tournament is fun family fishing at its finest. Prizes worth more than $160,000 will be given out at the conclusion of this event. The tournament focuses on the kids with ten categories and prizes for 1st, 2nd, and 3rd place in each category. Entry is just $20 for junior anglers. There are also 26 adult angler categories with prizes also being awarded for 1st, 2nd, and 3rd place. Adult tickets are $40, and there are optional speckled trout, king mackerel, and big game jackpots.
"In keeping with the tradition of the Flora-Bama, this tournament is all about having fun," said tournament director Angelo DePaola. "We wanted to make our tournament affordable for everyone and a chance for mom's and dad's to take their kids fishing and win some great prizes." You don't even need a boat to enter the tournament with species easily targeted off docks and from the bank like crabs and pinfish. The top junior angler in the tournament will win a $1,000 college scholarship from the Mississippi-Alabama Sea Grant.
Families are encouraged to come see the weigh-ins on Old River on Friday and Saturday of the tournament. More information is available at the tournament website.