Discover Three Ways to Set Sail on the Alabama Gulf Coast
June 9, 2015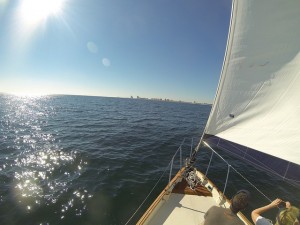 The breeze is in your hair, the wind is at your back and the sun is shining above as you glide across the turquoise waters of the Gulf of Mexico on a sailboat. Avowed sailing enthusiasts prefer the wind over a motor for their boat power any day of the week. If you haven't experienced this method of cruising the Gulf waters, you'll want to add it to your must-do list.
There are several ways you can set sail from the Alabama Gulf Coast. You can even get the kids involved and spark their interest in setting sail by taking lessons in Orange Beach. If time doesn't permit lessons, charter a sailboat and captain, or go along with a group aboard a larger vessel for a sailing experience unlike any you've experienced in the past.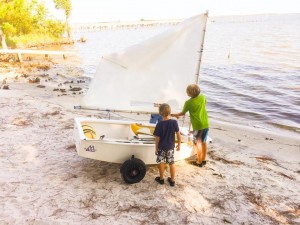 Let the kids find their inner sailor with Summer Youth Sail Camp at the Wind and Water Learning Center in Orange Beach. Multiple sessions are held until Aug. 3. Younger students will learn basic sailing fundamentals, water safety, knot tying, steering, proper sail trim, tacking and jibing, and capsize recovery. Older students will learn upwind sailing, boat handling and control. The most advanced students will have the opportunity to sail solo. Young sailors may even get the opportunity to race one of the center's Opti sailboats.
Sailing aboard a monohull vessel or a catamaran both offer unique experiences. A monohull vessel, like Sailob, offers a thrilling adventure. With occupancy for six, plus the captain, the experience is more intimate during your cruise. Book a sunset cruise or opt for an all-day charter that takes you through clear waters then back for a spectacular sunset along the Alabama Gulf Coast. Sail the Daedalus, a two-masted sailboat, offers a variety of cruises, including moonrise and twilight cruises as well as other excursions. For more sailing options, visit the cruise directory on our website.
If you're sailing with a large group, an open-ocean catamaran may be what you're looking for. Sail Wild Hearts, a 53-foot catamaran, can accommodate up to 49 guests and offers bathrooms for your convenience.
Most Orange Beach sailing adventures offer an array of trips that can take you just about anywhere you want to go. All of these sailing companies, and more, can be found on our website.