What's Biting: An investment in our fishing future
July 1, 2015
I recently blogged about all the great tournaments along our coast that are both fun for participants and spectators. The upcoming 4th of July weekend will mark one of my favorite tournaments of the summer, and it's one I am not even allowed to enter.
The Mobile Big Game Fishing Club will put on its 34th annual Junior Angler Tournament this weekend for kids under the age of eighteen. The MBGFC puts on seven tournaments each year including Memorial Day and Labor Day Tournaments, which are two of the largest big game fishing events in the country.
Big game, big money tournaments are a special part of our fishing community. But ask the MBGFC volunteers what their favorite tournament of the year is, and they will all tell you it's the kids tournament. "It's an honor to run this tournament for our club," said this year's tournament chairman Stacy Guy. "Every tournament chairman wants to raise the bar from the previous year. We all love to see kids fishing, so we all try make this a great event with lots of smiles from the kids."
[caption id="attachment_5069" align="alignright" width="225"]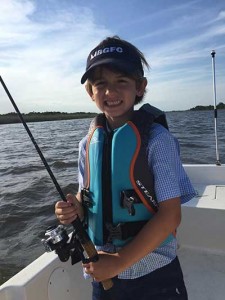 Junior anglers like Charlie Long are ready for this weekend's MBGFC kid's tournament.[/caption]
Pizza, snow cones, raffle tickets, and prizes are all as much a part of the tournament as is the catching of fish. "The party at our clubhouse for the kids is the highlight of our tournament season. From toddlers to teenagers, moms and dads, this weekend is a great representation of our family fishing club " said MBGFC President Bill Hixson.
Even before the fishing starts, the kids are already big winners. Every angler gets a ditty bucket full of MBGFC shirts, hats, stickers, and an assortment of other fishing and fun trinkets. The ditty bucket is worth more than the small entry fee to the tournament. "This tournament is an investment in our fishing future, and our club members are very generous with their support of this event," said Hixson.
The tournament starts with a registration party on Friday, July 3 from 4 - 8 p.m. This party might be the most fun part of the tournament for many of the kids. Every registered angler is given a raffle ticket, and prizes - lots of them - are given away to the kids. "Last year we set a record for the number of kids fishing with over 200 and 70 boats. Our clubhouse was packed with screaming kids ready to win a prize. Just to see the excitement when their number is called and then the pure exasperation when it isn't is so much fun for all of the adults," said Hixson.
After the party ends on Friday, the fishing begins. Even though it's a big game fishing club, this tournament has categories for every junior angler. In addition to the big game categories of catch-and-release billfish, tuna, wahoo and dolphin, there are also inshore and offshore categories. King mackerel, bonito, and red snapper are categories as well as speckled trout, flounder, and spanish mackerel. One of the most hotly contested categories is always the 'Biggest Pinfish Category,' which provides a chance for nearly every angler to weigh in a fish.
Anglers can fish starting anytime after the registration party concludes. The weigh dock will be open at the MBGFC clubhouse at Orange Beach Marina from 3:00 - 6:00 p.m. on Saturday, July 4. The awards ceremony will be held immediately after the weigh dock closes and will be finished in time for everyone to enjoy the holiday fireworks.
The tournament is open to all junior anglers and is $40 for non-members and $30 for members. Registration is available online at the club's website.