How to Shuck an Alabama Gulf Coast Oyster
August 19, 2015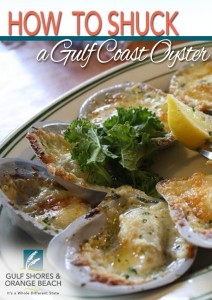 Want to try your hand at shucking oysters? Those delicious mollusks, chilled and served atop crackers with a dollop of cocktail sauce, are the spice of life for oyster lovers. Some like them raw, while others prefer them chargrilled, fried or even Rockefeller. But no matter how you like to eat them, there's that first step that stumps some people: How do you retrieve these savory treats from their shells?
Grab a bag of fresh oysters from a Gulf Shores seafood market on your next beach vacation and follow our easy steps for shucking these Gulf Coast delicacies.
Step 1: Gather your supplies: a shucking knife, kitchen towel, sturdy glove to protect your hand, a bed of ice for the oysters.
Step 2: Wash the oysters under cold, running water to get rid of any dirt or sand.
Step 3: Place the oysters on a bed of ice to ensure they are well-chilled.
Step 4: Get a kitchen towel or put on a thick glove. Oyster shells can be jagged and sharp.
Step 5: Grab the oyster with the gloved hand; hold the oyster with the cup side down and the hinge toward you.
Step 6: Insert the shucking knife into the hinge and twist the blade to pop the shell.
Step 7: Run the blade over the abductor muscle to release it and then run the knife underneath the oyster to release it from the bottom of the shell. Try to keep as much liquid in the oyster as possible.
Step 8: Place the oyster atop a bed of ice and then top with your favorite sauce or lemon juice.
Step 9: Enjoy!
Want your oysters already shucked and ready to devour? Check out the Gulf Shores and Orange Beach restaurants that serve them.
Don't miss the 8th Oyster Cook Off and Craft Beer Festival, Nov. 6 and 7, 2015 at The Hangout in Gulf Shores.