Two Ways to See the Backcountry Trails
August 27, 2015
Breathe in the fresh, salty air and enjoy the peaceful surroundings along the Hugh S. Branyon Backcountry Trail in Orange Beach and Gulf Shores. A cooperative venture between the City of Orange Beach and Gulf State Park, the trail offers a variety of vistas from maritime forests to a lush world filled with cattails, wild flowers, reptiles and wildlife that venture out on the trails.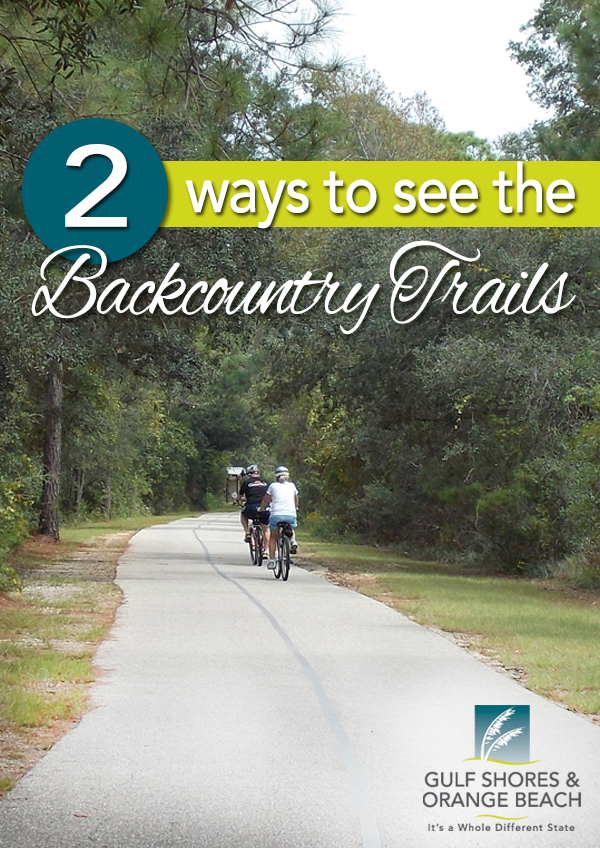 Discovering this world away from our famous white sands is easier than ever with more ways to tour the trails. You can always walk the trails or bike them. The paths are paved and most of them boast benches to give you a chance to rest or stop and enjoy the scenery. In addition to hiking and biking, you can also enjoy a guided golf cart tour and a Segway tour.
Admission is free to the trails, although guided eco-tours are available for a small fee. The two-hour golf cart tour takes visitors through the pristine woodlands and natural habitats of the trails. Restroom stops and water breaks are made along the route, and you're invited to bring snacks and beverages – and don't forget the insect spray. Tours are available by reservation only at 251-981-1063.
Segway tours are offered throughout the summer season; call 251-509-8687 for reservations. Both are great ways to enjoy the beautiful scenery of the trails and fun for the whole family.