What's biting: Finding Paul Prudhomme's famous redfish
October 14, 2015
Thank goodness, it appears the cooler weather is here to stay, which means the popular species of game fish will be moving into shallow water again.Preview
To honor the contribution of a culinary giant, Paul Prudhomme, who died last week, we'll focus this week on redfish or red drum if you're a fisheries biologist. Prudhomme is the famous chef from Louisiana who developed the blackened redfish dish, which became so popular that the redfish population in the Gulf of Mexico and Gulf Coast states was severely impacted. Federal regulations had to be implemented to protect the breeding stock of redfish in Gulf waters.
[caption id="attachment_5762" align="alignright" width="225"]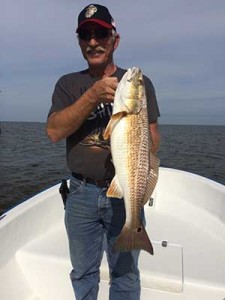 Redfish prefer structure, like pilings and rocks, to use as ambush points.[/caption]
In Alabama, redfish are managed through a three-fish bag limit and a slot limit, which allows anglers to keep fish between 16 and 26 inches with the exception of one redfish larger than 26 inches per angler per day. That exception was to allow for the retention of the possible state record fish. Otherwise, large redfish are really not palatable and should be released to fight another day.
But those 16- to 22-inch redfish make excellent table fare. Catching them is the best part of that deal.
With mouths on the bottom of their snouts, redfish are typically bottom feeders, slipping along the edges of the estuaries and bays looking for small crabs, shrimp and baitfish. However, that doesn't mean redfish won't feed higher in the water table. In fact, the largest redfish I've caught in my life, a 32-pounder, slammed a topwater lure.
For the most part, though, when I go looking for redfish, I'm easing around the edges of the bayous and bays looking for likely spots. Redfish prefer structure, like pilings and rocks, to use as ambush points. One technique several of my fishing buddies and I use for locating redfish is the use of a spinnerbait designed for redfish. It has a single blade and tough wire hooked to a quarter-ounce jighead and minnow-imitation body.
The spinnerbait allows you to cover lots of ground. Once you locate the fish, many times you can grab another rod that is rigged with a gold spoon. I tend to use a Johnson Silver Minnow, but not the silver color. The erratic action of the spoon is irresistible to the redfish. Make sure your drag is set properly, or you'll end up donating a lure. Redfish seldom ever let go of the bait.
Of course, you can just cast a regular jighead with plastic minnow body, but you tend to get snagged much more often with that bait compared to the spinnerbait or spoon.
Live-bait fishermen also have plenty of luck this time of year with bull minnows, menhaden and shrimp. Some anglers will take small crabs, break them in half and use that for bait.
If you decide you want something to really stretch your string, then head to Dixey Bar, often misspelled Dixie, a shallow sand bar on the east side of the Mobile Bay ship channel just off Fort Morgan. The clipper ship Robert H. Dixey ran aground on the bar in 1860 and broke apart during a hurricane.
With a water depth from five to 10 feet, Dixey Bar is a shelf of sand that provides large redfish, called bull reds, with a perfect place to forage for crustaceans and baitfish that venture out on the bar from the deeper waters of the Mobile Ship Channel.
When redfish are on the prowl, they move up onto the bar, searching for anything edible. That could include blue crabs, shrimp, menhaden, pinfish, croakers, just to name a few. They'll also hit a variety of artificial lures. When bull reds are in a feeding mood, if it resembles bait, they'll nail it.
You might want to beef up the tackle a bit, though. Bull reds have been known to strip a reel of line and burn a few drag discs, too. As I said before, these bull reds are just great fun to catch but aren't good for the dinner table. Take a picture and toss 'em back.