What's biting: Wahoo! We've hooked a fast one
October 21, 2015
They are fast! How fast? The International Game Fish Association says 50 miles per hour or more! I have never been able to get a radar gun on one to know for sure, but once you hook a Wahoo, you will agree they are speeding in all but interstate speed zones.
[caption id="attachment_5794" align="alignright" width="300"]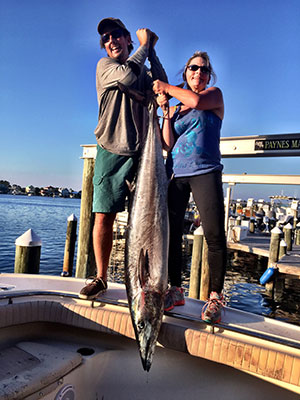 Carrie and Jim Cox landed this 82-pound Wahoo last week.[/caption]
Last week, the speed of a Wahoo had me thinking we had hooked a blue marlin, but after a lack of jumps behind our boat, I was excited knowing we had a nice Wahoo on the line. My wife and I were trolling about four miles south of the nipple area when the open water hit came on the starboard outrigger. In a matter of seconds, more than 500 yards of thirty-pound line was stripped off the reel.
The fish hit one of my favorite white marlin lures, so of course, I thought it was a billfish. But the fish just kept going on the initial run, and when there was no 'greyhounding' behind the boat, the still screaming reel was a classic sign of a Wahoo bite. Wahoos usually make one long blistering run, and then a second shorter run once they get close to the boat, which was exactly what this fish did. About thirty minutes later, we were able to land the fish, by far the largest Wahoo I've ever been a part of catching: 82-pounds of great eating gamefish!
Over the years, high speed trolling has become a very popular way to target Wahoo. Pulling heavy lures with trolling weights attached at speeds from 12 to as high as 17 or 18 knots has produced some great catches. Local charter boats almost always pull a Wahoo lure behind the boat when returning from offshore and often add a Wahoo to their catch for the day.
Most Wahoos are still caught trolling at the customary seven to nine knots. Working from the fifty-fathom curve out to the hundred-fathom curve is a great place to target Wahoos from the spring through the fall. In the winter, months they are more concentrated around the rigs to the southwest. Any debris floating has a chance to be holding a Wahoo. Never pass up the chance to troll past a bucket, board, barrel, log or anything else that you see on the horizon.
The same day we caught our fish, Chris Vecsey of Sam's Bait and Tackle in Orange Beach, caught a Wahoo that was pushing 70-pounds and another one that was over 40-pounds. He found a school of bait on the surface on his way to the nipple that produced the two Wahoos and a Mahi Mahi. One of his Wahoos hit a lure, and the other a lure and ballyhoo combination.
We weren't targeting Wahoo specifically while on the troll, but I always feel if we happen to drive over a hungry Wahoo, it will take a liking to our spread of lures and ballyhoo. They are such nomadic creatures; they are sometimes caught close to the beach and can be found in any depth of water offshore. To better target Wahoo, deep diving plugs and Bonita style swimming lures with wire or cable leaders can be pulled around offshore structure and drop-offs.