What's Biting: Tackling the little things
November 11, 2015
I'm not sure who said "It's the little things in life," but I sure get it when it comes to fishing. Little things can make a big difference, and now that we are approaching the offshore off-season, it's a good time to make a list of little things to do between now and spring. It's those little things that you say "I've gotta fix that," and then you never do!
For probably four years, I ignored the fact the 12-volt plug didn't work on our boat. You know the one that used to be called the cigarette lighter. I just didn't put much thought into it. But this past winter, I had the electrical guy fixing some other issues on the boat and asked him to add it to the punch list. Whoa! It was so nice to be able to charge the cell phone, satellite phone, iPad, camera or anything else that needed juice. It was a simple fix that made a huge difference on the boat, and one I had no reason for not addressing sooner.
[caption id="attachment_5938" align="alignright" width="300"]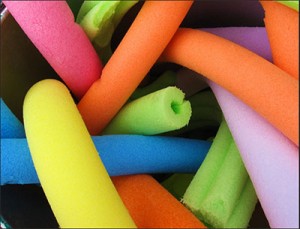 Using a piece of pool noodle can save you from losing things overboard.[/caption]
Here's another one that was driving me crazy. My mono cutters had gone from cutters to mashers. Instead of a clean cut of the line, they would just kind of mash the mono until it broke, which is maddening when trying to fit into a crimp. A simple and inexpensive fix was to send the cutters in to get serviced by the manufacturer. It came back in a few weeks and were good as new. Again, I thought why did I wait so long?
Here's another...when you break down your reels to get serviced (remember, taking them in early is the key to making sure you are ready to fish in the spring), take an extra minute and write down the serial numbers of each reel. Offshore reels are expensive and serial numbers are the only way to track them down if they ever go missing. You can keep these on file, and share a copy with your insurance company. You certainly hope you won't have to use this information, but writing it down is such a little thing, so why not go ahead and do it.
Dropping something overboard ranges from the feeling that you just threw away a twenty dollar bill to the feeling of watching three $100 bills vanish when you drop a GoPro camera. I still cringe seeing one of my GoPros sinking faster than an eight-ounce egg weight this summer. Give yourself a chance to recover dropped items by adding a cut piece of pool noodle to the handle of the tool. I do this with pliers, scales and small hand gaffs. You can test the buoyancy in a pool or a bucket of water. This is cheap insurance for slimy, slippery hands, which we hope we always have when fishing on a boat!
Make a list of your little things to fix this winter, and next spring you'll be saying "I'm glad I finally fixed that" even if you wonder what took you so long.