Drop a Line for Spring Charter Fishing
February 17, 2020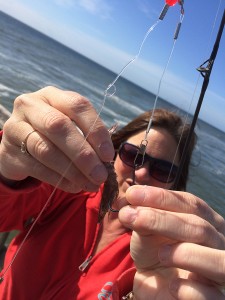 Spring is almost here. For the angler, that means fishing season starts now! A trip to Gulf Shores and Orange Beach should be on your calendar to get the season off to a fun start.
In early spring, a charter trip to fish for the tasty sheepshead, or convict fish, is a good place to start. These black-and-white striped fish can be found around structures like jetties, pilings, rocks and bridges. The best bait to try is shrimp, alive or dead. But be aware: Sheepshead are master bait stealers. Try to hide your hook in the bait as much as you can.
An offshore charter to fish for cobia could be the highlight of your season. Cobia migrate from south Florida to the northern Gulf of Mexico each spring. As the water gets warmer, keep an eye on fishing reports from the east regarding cobia heading our way. While you are skimming across the swells, keep an eye on the water - these powerful fish can be seen swimming in schools just below the surface. A skilled angler can get the bait in front of the swimming fish and reel in a prize that could weigh more than 100 pounds!
When you are ready to book your spring fishing trip, contact one of the many fishing charters offered in Gulf Shores and Orange Beach.