What's Biting: Can we keep it?
April 6, 2016
As fortunate as we are to have so many species of fish to target offshore, sometimes it can get a little confusing as to what is in season and what is not. With today's technology, it is easier than ever to make sure you don't have a fish in your box that doesn't belong there. I believe most violations that occur are honest mistakes as opposed to anglers purposely harvesting a fish that is out of season. Even local fishermen get confused as to what they can or can't keep. If you're a visitor on a fishing vacation, chances are you might need to review the current regulations before heading offshore.
The season that gets the most attention, of course, is red snapper. Red snapper is currently closed, but the announcement as to when it will open could come soon. The Gulf of Mexico Fishery Management Council is meeting in Austin, TX this week and the red snapper season is on the agenda. Once the federal season has been announced, the Alabama state red snapper season dates will be finalized for fishing out to nine nautical miles.
By this time last year the triggerfish season had already closed, but as of today the season is still open and the bite has been good for those getting offshore. Amberjack also remains open but it will, along with triggerfish close from June 1st - July 31st. Gag grouper remains closed until July 1, but just last week red grouper and scamp opened up to be caught in all waters.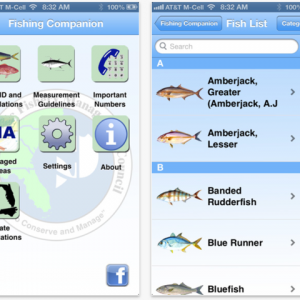 As you can see, there are a lot of dates and species to keep up with, but as it is said, thankfully there is an app for that! "We recommend everyone who fishes offshore to have two specific apps installed on their phones," said Chris Blankenship, Director of Alabama's Marine Resources Division. "The first one is the Gulf Fisheries Management Council Regulations app. It's free and features all of the fisheries regulations so you can easily find out if that fish you just caught is in season."
The app also features fish illustrations and fish identification data. This information is very helpful when attempting to positively identify a particular species. Fish from the same family can be hard to tell apart. Is it a big spanish mackerel or small king mackerel? This app will give you the information needed to make the correct determination.
The 'Pocket Ranger' app, from the state of Alabama, is also something Blankenship wants everyone to use. When red snapper season does re-open, it is mandatory to report your snapper catch. "It is crucial that we have the best data from our fisherman so we can present it accurately to the authorities. We use this data in our effort to gain the best possible outcome for all of us who love to catch red snapper." The app is easy to use and also has a lot of other functionality including the ability to buy your license online and a listing of Alabama state record fish.
When using these apps, it is crucial always to update them when prompted as seasons can change from one fishing trip to the next. We use technology to help us catch more fish with GPS systems, bottom machines and satellite imagery, let's also use it to stay up to date on fishing regulations and mandatory reporting.