What's Biting: Get Hooked on Speckled Trout
May 25, 2016
My phone has been blowing up with pictures of huge speckled trout that have been hooked lately in Alabama coastal waters. That can only mean one thing – it's spawning time.
A friend who lives on a canal went out at daybreak with a topwater bait and caught a speckled trout that was pushing six pounds.
My buddy, guide Jay Gunn, sent a similar photo of a "gator" trout one of his customers caught
[caption id="attachment_6850" align="alignright" width="225"]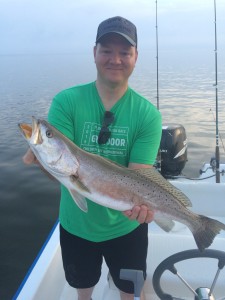 Trout caught on the Alabama Gulf Coast.[/caption]
this past week on a Lunker City grub and jighead. The term "gator" denotes a trout that is six pounds or larger. It was his second gator in a week, but Gunn was not surprised.
"The big trout always bite right now," Gunn said. "It's the full moon in May. That's the time of the big spawn for speckled trout in coastal Alabama."
For anglers who are familiar with bass fishing, Gunn said the feeding phenomenon of the big trout is similar to when female largemouth bass come off the bed after spawning. They go into a feeding frenzy to compensate for the lost weight during the spawn.
"I can't tell you why, but speckled trout do the same thing," he said. "To me, they also seem to bite topwater baits better now than later in the year when they'll just slap at it a lot of times."
Gunn has been impressed with the number of trout on the Alabama coast he's seen this spring.
"I have not had a bad day and have not caught fish in the same place in three weeks," he said. "There are a lot of fish. There are a lot of small fish. There is a really good year class of 12- to 17-inch fish, which bodes well for the future. And they're everywhere. They don't seem to be schooled up anywhere. It may be because there are a lot of shrimp and they don't have to move much to find them."
If you're looking for trout, head to the gas rigs, rock jetties, oyster shell beds, inshore artificial reefs or a swarm of bird activity.
"You can even catch them in Little Lagoon right now," Gunn said. "It's literally the gamut of where speckled trout hang out. You can even find them on the front beaches if the wind allows you to get out there."
Gunn is sticking strictly with artificial baits right now. One reason is there is no bait area close enough and he'll have to wait until June 1 to start dragging his net.
"But I've been watching people fishing with shrimp and haven't seen them catch a fish," he said.
When you're lucky enough to hook a gator trout, Gunn said the key is to not get in a hurry.
"My trick is don't rush them," he said. "I do not horse them to the boat. I let them expend all their energy before we get them to the boat. We lose very few fish that way. If you get them to the boat before they get tired, they can freak out and run under the boat or the anchor line and they're gone. Just make sure you have a nice, smooth drag and don't rush the fish. Take your time and enjoy the ride."