What's Biting: Plenty of Fish To Be Caught on a Charter Boat
August 10, 2016
Even with the recent closing of Federal Red Snapper season for charter boats and the announcement of closures for Triggerfish and Amberjack for the rest of the calendar year, there are still plenty of fish to be caught offshore.
As the August weather and water turns hot, our local charter captains are still putting customers on loads of fish. The species depends on how long of a charter trip the customer wants to book. When other anglers struggle to catch fish in the heat of summer, charter captains just keep on catching.
[caption id="attachment_7186" align="alignright" width="300"]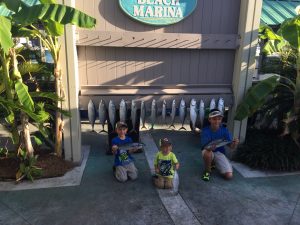 4 Hour Charters are perfect for introducing kids to offshore fishing. These young anglers were all smiles after a trip on Chipper's Clipper at Orange Beach Marina.[/caption]
Four-hour charters are always popular with families who have young children that are ready to venture offshore. These trips are perfect for introducing young anglers to deep sea fishing. There are plenty of fish to be caught, and for a youngster, the fish will be bigger than anything else they have ever hooked, but not so big they can't land the fish.
"On a four-hour trip, we will catch Spanish mackerel, King mackerel, Bonita and Jack Crevalle," said Captain Chip Day on Chipper's Clipper at Orange Beach Marina. "The trip is long enough for the kids to get some fun trolling action in, yet not too long to wear them out." Captain Day says he is always amazed at the fight in his youngest anglers. "Last week, we had some boys fishing with us who hadn't even had their fourth birthday yet. They fought the fish all by themselves and are now officially hooked on offshore fishing."
If you are comfortable booking a longer trip, you will also have more fishing options available to you. On six-hour trips, you can get into deeper water where bottom fishing becomes an option. Vermillion Snapper (Beeliners) and White Snapper are common targets on six-hour trips. These fish are not only fun for everyone to catch, but also provide excellent table fare.
If you can book a ten or twelve-hour charter, now you have a chance at catching almost anything that swims in the Gulf of Mexico. These longer trips allow you to target Grouper which reside in deeper waters, usually starting around one hundred and fifty feet. Scamp, Gag Grouper and Red Grouper are all still in season and also a prize catch. Also in deep water are bigger Vermillion and White Snappers. "On our longer trips, we are fish spots that do not have nearly the fishing pressure as spots closer to the beach," said Captain Day.
Heading into deeper waters also offers you another opportunity. Trolling for Wahoo and even Marlin. Wahoo will soon be moving closer inshore and as they do, charter boats will troll on the way to and from deep water bottom fishing spots. "It won't be long and we'll start catching Wahoo while trolling and as we do, we also will have a chance at catching a White Marlin or even a Blue Marlin."